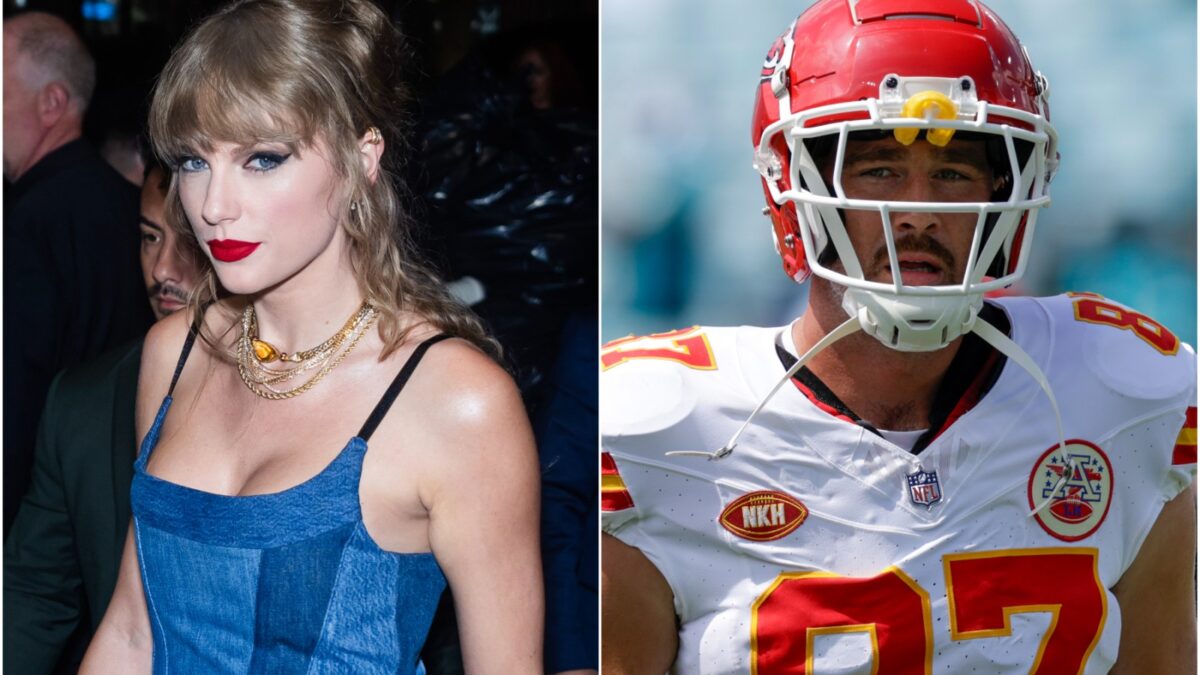 Looks like Taylor Swift accepted Travis Kelce's invitation, after all.
Swift was spotted cheering on the Kansas City Chiefs at Arrowhead Stadium on Sunday, further fueling rumors of a potential romance between the singer and Chiefs tight end. 
As Kelce and his team took on the Chicago Bears, the singer was seen sitting in a private suite box next to Kelce's mother, Donna Kelce, ahead of the kickoff at the Kansas City, Missouri, stadium. At one point, the camera panned over to show her wearing Chiefs colors and cheering enthusiastically. 
During the game, Swift's enthusiasm continued as she celebrated Kelce's touchdown with a "Let's fucking go!" while clapping and jumping excitedly alongside others in the box.
Swift's appearance comes after the football player said that he had reached out to invite her to a game. 
"I threw it out there," he told ESPN's The Pat McAfee Show earlier this week. "I threw the ball in her court and, you know, I told her, 'I've seen you rock the stage at Arrowhead, and you might have to come see me rock the stage at Arrowhead and see which one is a little more lit.'"
"So we'll see what happens in the near future," he added.
Dating rumors surrounding Swift and Kelce began in July when he expressed his interest in the singer after attending her "Eras Tour" concert at Arrowhead Stadium. Kelce admitted that he had attempted to meet Swift and give her his number at the show but failed. 
"I was disappointed that she doesn't talk before or after her shows because she has to save her voice for the 44 songs that she sings. So I was a little butthurt I didn't get to hand her one of the bracelets I made for her," he said.
"If you're up on Taylor Swift concerts, there are friendship bracelets and I received a bunch of them being there, but I wanted to give Taylor Swift one with my number on it," he continued. "She doesn't meet anybody or at least she didn't want to meet me, so I took it personal. But it was an unbelievable show."
The singer has yet to weigh in on the rumors herself.
This post was updated to add Swift's reaction to Kelce's touchdown.