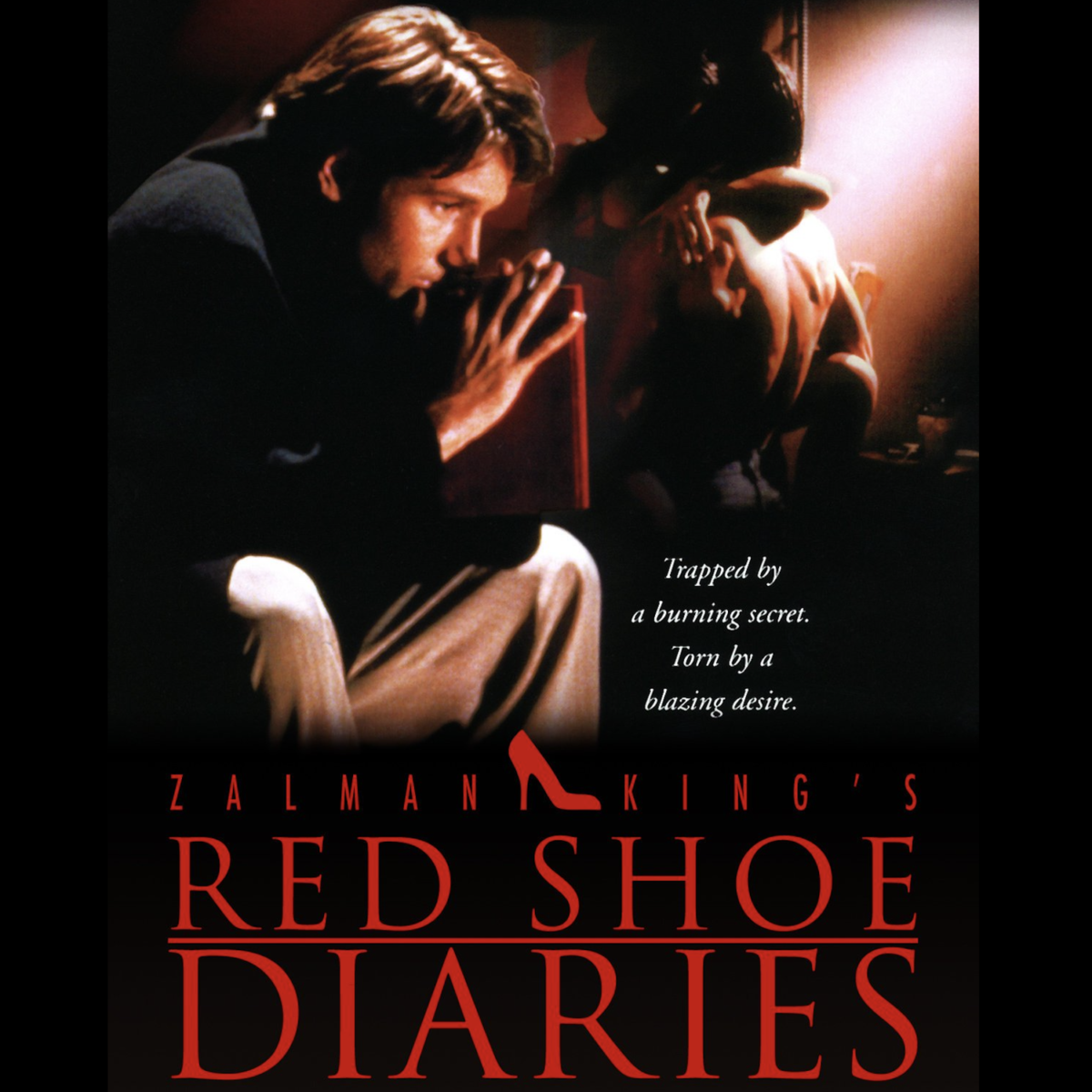 Listen to this episode on Apple Podcasts or Spotify.
While the MPAA's confusing and hypocritical ratings decisions were leaving filmmakers flummoxed in the early 90s, cable TV was opening up new possibilities for erotic content. Today we will offer a brief history of sex on TV, and then focus on Red Shoe Diaries, the cheesy-but-charming late night softcore soap that was the brainchild of 9 ½ Weeks writers/producers Zalman King and Patricia Knop. 
David Duchovny in Zalman King's Red Shoe Diaries, 1992
SHOW NOTES:  
Sources:
Channel J Pornography Is Cause Of Lockout Law by Sally Bedell Smith, NYTimes, March 5, 1984
Premiere Magazine profile by Nancy Griffin, September, 1991
"Red Shoes Diaries" by Ken Tucker, Entertainment Weekly, May 01, 1992 
"Unsafe Sex" by Ivor Davis, Los Angeles Magazine, May 1992
"Red Shoe Diaries Review", Variety, May 15, 1992 
"TV Review: 'Red Shoe Diaries': A Peek at Cinematic Foreplay" by Chris Willman, La Times, May 16, 1992 
"Moviemaker Takes His Flair for Erotic Fare to Showtime" by Steve Weinstein, LA Times, May 18, 1992
"The Pleasure Principle" by Dan Zevin, US Magazine, August 1992
"Tales From The Sheets" by Jeffrey Ressner, US Magazine, August 1992
"You Get What You Pay For: Everything You Ever Wanted To Know About Cable Sex" by Michael Kaplan, US Magazine, August 1992
"Eden Forbidden Interludes" by Tony Scott, Variety, Jun 25, 1993
"Playboy Series Makes Move Into the Mainstream" by N.F. Mendoza, LA Times, June 26, 1993
"Zalman King: His Erotic 'Shoe' Fits" by N.F. Mendoza, LA Times, June 27, 1993
"USA Joins With Playboy To Present Adult Series 'Eden' by Martie Zad, Washington Post, June 27, 1993 
"Now, The Sex Files On Pay Cable, After Hours, Men And Women Do Much More Than Communicate" by Ginia Bellafante, TIME, June 10, 1996 
"Red, White And Blue Sleaze: Al Goldstein's Infamous 'Midnight Blue' Cable Access Program", Dangerous Minds, Feb 10, 2014
"'Wild Orchid' director Zalman King dies at 70 by Jack Hannah" CNN, February 4, 2012 
"David Duchovny on Zalman King" by Sara Vilkomerson, Entertainment Weekly, Feb 07, 2012 
"Zalman King, Creator of Soft-Core Films, Dies at 70" by Douglas Martin, NYTimes, Feb. 8, 2012 
"REMEMBER THIS? Masturbation, Nudists, and Street Interviews: An Oral History of HBO's Real Sex" by Molly Langmuir, Vulture, July 30, 2013
"An Oral History Of Showtime's 'Red Shoe Diaries'" by Chris O'Connell, MEL Magazine, Jul 25, 2019 
"Zalman King: The Forgotten Auteur Who Revolutionised Sex, Kink And Female Desire On Screen" The Independent, April 27, 2020
"'Emily in Paris' and the Rise of Ambient TV" by Kyle Chayka, The New Yorker, November 16, 2020
Getting Comfortable with Robin Byrd, anildash.com, Jan 28, 2021

Please note: as an Amazon Associate Karina earns from qualifying purchases. #ad
Matt LeBlanc and Nina Siemaszko in Red Shoe Diaries "Just Like That" (1992)
Music:
The music used in this episode, with the exception of the intro, was sourced from royalty-free music libraries and licensed music collections. The intro includes a clip from the film Casablanca.  
Excerpts from the following songs were used throughout the episode: 
Vik Fenceta Lan – The Fence
Helion Ruins – Makropulos
Mill Wyrm – Potions
Daymaze – Orange Cat
Launch Code – Kittyhawk
Bask VX – Limoncello
Cicle Vascule – Cicle Kadde
Junca – Orange Cat
Will be war soon? – Kosta T
Benbient – Canton Becker
Laura Johnson in Red Shoe Diaries, "Double Dare" (1992)
Credits:
This episode was written, narrated, and produced by Karina Longworth.
Featuring Noah Segan as the voice of Zalman King. 
Our editor this season is Evan Viola. 
Research and production assistant: Lindsey D. Schoenholtz.
Social media assistant: Brendan Whalen.
Logo design: Teddy Blanks.
David Duchovny in Red Shoe Diaries, "Jake's Story" (1992)