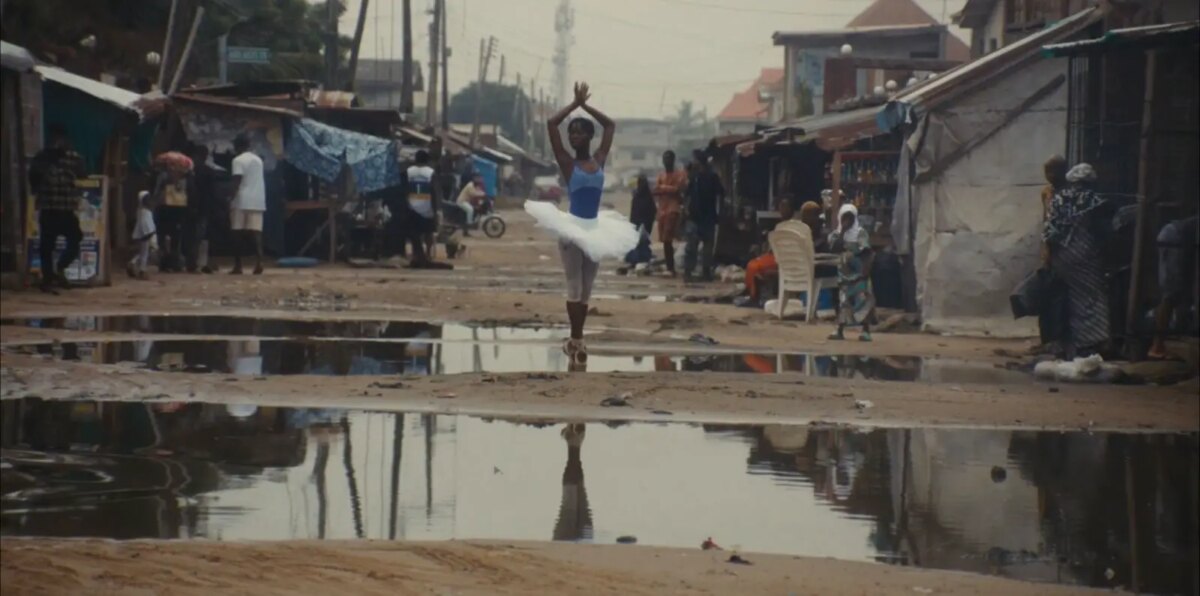 TRIBECA FILM FESTIVAL 2023 REVIEW! Indie filmmaking is not the only discipline that refuses to take "No" for an answer. Jacob Krupnick's documentary short, Then Comes The Body, brings the art of ballet into the most unlikely of locations. The film tells the story of Nigerian ballet dancer/instructor Daniel Owoseni Ajala. What makes Ajala so remarkable is that ballet in Nigeria doesn't exist. There is no national company, theater, or even the slightest interest in this global art form.
Not taking "no" for an answer, Ajala grabbed the bull by the horns and learned ballet from YouTube videos. After teaching himself, Ajala then began teaching willing Nigerian students from his hometown. Again, not taking "no" for an answer, he built his own makeshift studio and theater. His stage is his backyard and the local streets of Nigeria.
Building a ballet company was not easy for Ajala. Early on, he was persecuted as his interest in ballet was seen as indecent to the predominantly Christian nation of Nigeria. However, his persistence and perseverance ultimately paid off as his student received scholarships and opportunities abroad.
"…Ajala grabbed the bull by the horns and learned ballet from YouTube videos."
I'll admit, I'm not a big fan of ballet, even though I married a dancer. Where Then Comes The Body succeeds is the obvious "rags to riches" story of Daniel Owoseni Ajala. Let's be clear, he's not quite at the "riches" part yet. However, his love for ballet and his passion for passing that along to the youth is nothing if not inspiring for anyone living in impoverished areas of the world.
Where the film shines is Krupnick's storytelling and cinematography. The dances from Ajala's students are beautiful, mainly when set against the backdrop of the Nigerian streets and Ajala's backyard stage. The filmmaker finds some visually stunning locations in this small town to dance at.
Also, Then Comes The Body uses a distinctly African beat for its selection of music. No Western classical music here. Krupnick's tale is inspirational and a pure joy to behold.
The Comes The Body screens at the 2023 Tribeca Film Festival.