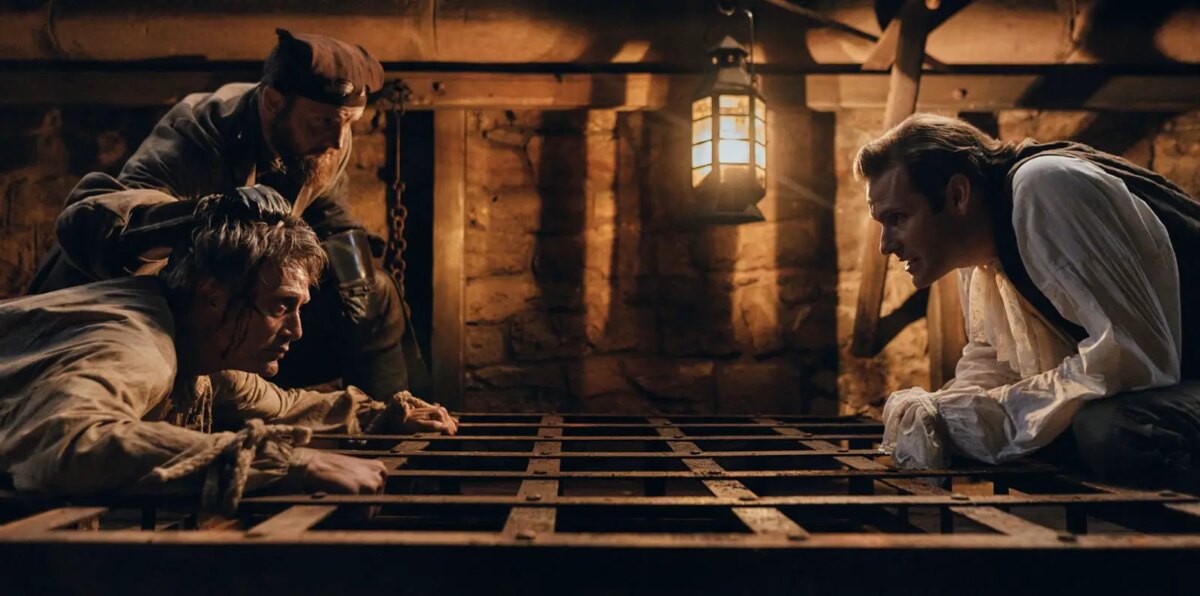 TORONTO INTERNATIONAL FILM FESTIVAL 2023 REVIEW! The original Danish title for Nikolaj Arcel's The Promised Land is the Danish Bastarden or "The Bastard." It's a fitting title in that the director's second feature with the renowned Mads Mikkelsen is quite a brutal experience. It is a film that stares headlong at heavy topics such as born rank and man's contest with nature. However, none of this should suggest that the English title has lost something. On rather rare occasions, the Biblically allusive title reveals another side of the film—the bending of one's will toward destiny. With this most primordial of themes, Arcel has constructed a piece of cinema that is not just arresting but wholly resplendent.
The Promised Land follows Ludvig von Kahlen (Mads Mikkelsen), the bastard son of a maid and a nobleman who has overcome his low rank to become a successful army captain. Desiring to seize a noble title himself, the self-possessed Kahlen commits to establishing a settlement in the wild heath—an expanse of desolate wilderness. However, he soon runs afoul of Frederik de Schinkel (Simon Bennebjerg), a wealthy landowner who refuses to share land or profit.
There is a noticeable vein of the mid-century adventure running throughout The Promised Land in both tone and aesthetics. The film is shaped in the visual mold of bygone epics, such as 1956's The Searchers and 1962's Lawrence of Arabia—the latter being a direct influence for Arcel. Wide lens cinematography is used in almost every scene, rendering Denmark's rugged heath in cruel, captivating frames that bleed with foreboding. This makes the wilderness itself a type of omniscience, always present and always observing.
"Desiring to seize a noble title himself, the self-possessed Kahlen commits to establishing a settlement in the wild heath…"
As could be anticipated, Mikkelsen turns in a powerful performance as Ludvig von Kahlen, a man so stoically committed to his goal that his very presence on-screen seems to ignite the ire of the ever-present heath. However, the supporting character Ana Barbara (Amanda Collin) is of comparable force here, acting as a woman equally as unflinching but also palpably feminine in a time of tremendous hardship. The two are rounded out by the splendidly maniacal Frederik de Schinkel, played by an effervescent Bennebjerg, who teeters on the edge of cartoonish exaggeration but skillfully maintains believability throughout the film.
However, it is in the orchestration of these characters that Arcel finds his greatest success. Though seemingly straightforward, the plot continually offers organic story turns that allow the entire cast to play wonderfully off of the singular Mikkelsen. In these surprise moments, the film feels most like an adventure—generating moments of genuine depravity but also earnestness in its purest forms.
The only setback is a slightly off-kilter third act that too quickly and too tidily ties up loose ends. And yet, this misstep is buffered by a well-hewn narrative context that maintains the film's emotional tone without ever veering into oversentimentality. Indeed, Arcel and Mikkelsen have struck a deeply human chord with The Promised Land. It is a tale of undoubted savagery but also one of hope in all its divine illumination.
The Promised Land screened at the 2023 Toronto International Film Festival.