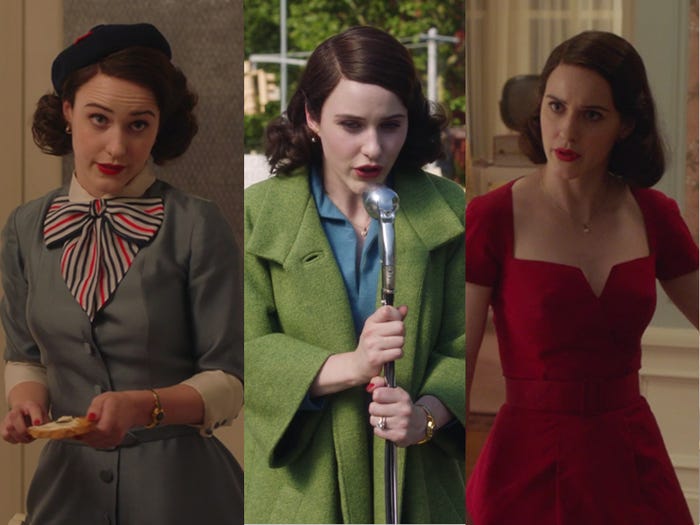 A Look Back and Glance Forward at The Marvelous Mrs. Maisel.
In advance of the highly anticipated debut of the fifth and final season of The Marvelous Mrs. Maisel, we want to share a special series retrospective encompassing the past five years! The clip, which celebrates the iconic and trailblazing Prime Video series, debuted at PaleyFest.
Watch the Maisel Retrospective here.
In the fifth and final season, Midge finds herself closer than ever to the success she's dreamed of, from the looks of the official trailer we see Midge getting on the Gordon Ford, we then see her performing in different locations. We see her tell an interviewer "I want a big life, I want to break every single rule there is." According to Rachel Brosnahan "We're definitely going to watch Midge's star rise" this season. Click here for a look at what we can expect in the final season.
The Marvelous Mrs. Maisel, from renowned creator Amy Sherman-Palladino and executive producer Daniel Palladino, is written and directed by Sherman-Palladino and Palladino, and stars Emmy winner Rachel Brosnahan, four-time Emmy winner Tony Shalhoub, three-time Emmy winner Alex Borstein, Emmy nominee Marin Hinkle, Michael Zegen, Kevin Pollak, Caroline Aaron, SAG Award winner Reid Scott, Alfie Fuller, and Jason Ralph.
There will be many new roles in season 5, and some big names will be guest starring including Hank Azaria (Spamalot), Sutton Foster (The Music Man, Anything Goes), Darren Criss (Glee) and Sean Gunn (Guardians of the Galaxy), David Paymer returns to the role of Harry Drake, as well as Danny Strong (creator of Dopesick), Peter Friedman (Love & Other Drugs), Austin Basis (Beauty & the Beast), Chloë Kerwin (Asleep in My Palm), Lucas Kavner (The Jim Jefferies Show), Eddie Kaye Thomas (American Pie), Josh Grisetti (Nurse Jackie) and Michael Cyril Creighton (Only Murders in the Building), all will appear in new roles on the show.
Click here for a recap of seasons 1 to 4. The first 3 episodes of the final season of The Marvelous Mrs. Maisel is now streaming on Amazon Prime. New episodes will be premiering each week, until the finale on Friday, May 26.
Tits Up!