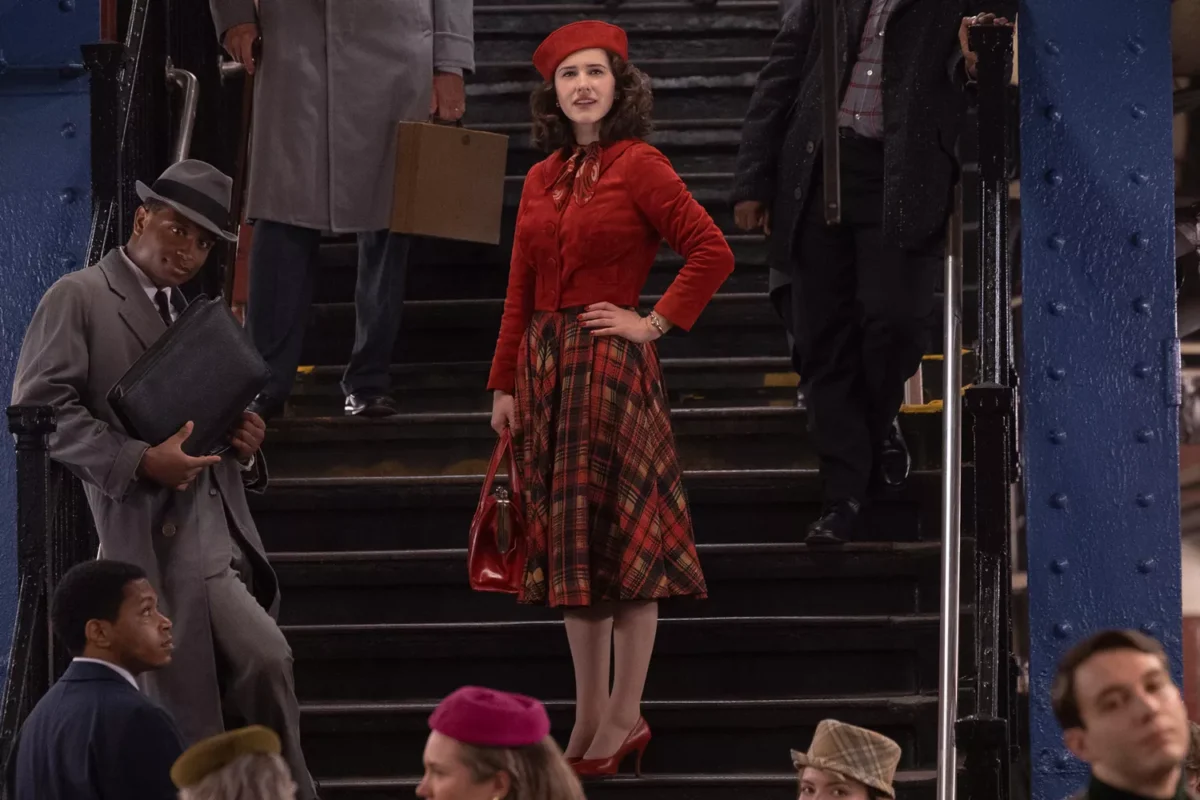 Just like with Midge Maisel's comedy career, 'The Marvelous Mrs Maisel' has continued to get better and better and kept on delivering to it's audience. The show that started out as a simple comedy about a housewife turned comedi has evolved into something much more over the years. Created by Amy Sherman Palladino and Daniel Palladino this award winning comedy stole the hearts of many when it first premiered in 2017. "Amy Sherman-Palladino and Dan Palladino keep raising the bar for us season after season," said Mrs Maisel star Rachel Brosnahan at the 74th Emmy Awards in September 2022. "And they've given us so much do to, and so much to play with. So it's been as much of a roller-coaster as ever and I can't wait to share it with everyone."
Amy and Dan "have blazed an unparalleled path, elevating the stories we tell about women, challenging the norms in our industry, and forever altering the entertainment landscape with their one-of-a-kind storytelling. The dozens of awards cement Maisel's legacy in many ways, but what's even more enduring and poignant are the characters Amy created and the joyous, brilliant, singular world she and Dan brought to life." Said Amazon Studios head Jennifer Salke when announcing the end of the series.
Here's everything we know about The Marvelous Mrs Maisel Season 5 so far.
What will it be about?
The official synopsis of the season reads "In the fifth and final season, Midge finds herself closer than ever to the success she's dreamed of, only to discover that closer than ever is still so far away."  The trailer gives us a look at Midge getting on the Gordon Ford Show which we first see at the end of Season 4. We then see her performing in different locations. We see her tell an interviewer "I want a big life, I want to break every single rule there is." When asked about whether Midge would find success Brosnahan said in an interview with Extra in 2022 that "We're definitely going to watch Midge's star rise." This season finds Midge closer to her dreams than ever before.
Who will be in the cast?
Rachel Brosnahan will return to The role of Miriam "Midge" Maisel, for the last time leading the cast that stars Marin Hinkle as Rose Weissman, Midge's mother, Tony Shalhoub as Midge's father, Abraham "Abe" Weissman, Alex Borstein as Susie Myerson, Midge's manager. Michael Zegen as Joel Maisel, Midge's ex husband.
The show will guest star Kevin Pollak as Joel's father, Moishe Maisel and Caroline Aaron will portray Joel's mother, Shirley Maisel. Reid Scott, Jason Ralph, and Alfie Fuller were promoted to series regulars for season 5 after having reccuring roles in season 4. Scott portrays Gordon Ford, a talk show host; Ralph portrays Mike Carr, a booker on the Gordon Ford Show; and Fuller portrays Dinah Rutledge, Susie's receptionist. This is Us alum Milo Ventimiglia is also set to return to the show after a surprise appearance in Season 4 as the mystery guy Midge met in the park, who turned out to be married. And yes we will get to learn his name. Gilmore Girls alum Kelly Bishop will also return to the show in a guest appearance as Benedetta, Rose's rival matchmaker.
Who will be guest starring?
There will be many new roles in season 5, and some big names will be guest starring including Hank Azaria (Spamalot), Sutton Foster (The Music Man, Anything Goes), Darren Criss (Glee) and Sean Gunn (Guardians of the Galaxy), David Paymer returns to the role of Harry Drake, as well as Danny Strong (creator of Dopesick), Peter Friedman (Love & Other Drugs), Austin Basis (Beauty & the Beast), Chloë Kerwin (Asleep in My Palm), Lucas Kavner (The Jim Jefferies Show), Eddie Kaye Thomas (American Pie), Josh Grisetti (Nurse Jackie) and Michael Cyril Creighton (Only Murders in the Building), all will appear in new roles on the show.
Where will season 5 pick up?
Season 5 will pick up almost immediately after season 4 ended. Let's do a quick recap shall we? In season 1 Midge's husband leaves her for his secretary and Midge discovers she has a talent for stand up comedy which she then pursues in secret, leading to her becoming the Marvelous Mrs Maisel. Season 2 sees Midge now working as a comic for a living performing whatever gig she can find. She lands the opportunity of a lifetime when she's invited to open on tour with singer Shy Baldwin. In season 3 Midge's career is on a high as she is on tour with Shy, performing at different cities each night, until she's kicked off the tour at the end of the season. Midge is in a downward spiral in the 4th season until Lenny Bruce advises her to take his place as Tony Bennett's opening act, however Midge who now does not want to do opening numbers anymore turns it down and sets The Gordon Ford Show as her next target.
When Will 'Marvelous Mrs. Maisel' Season 5 Premiere?
The final season will premiere on April 14 on Prime Video with the first three episodes. The rest of the season will air weekly until the finale.
This may be Mrs Maisel's last show, but she is not going out unless it's on top. So you can bet we are in for something special, Brosnahan herself used the words juicy and exciting to describe the final season. It's bittersweet to say farewell, but at the same time, you just know Mrs Maisel is going to put on one heck of a show.