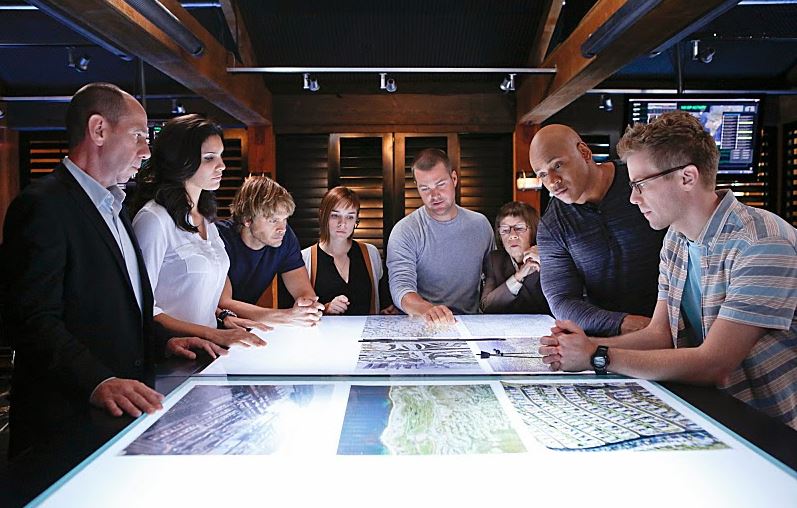 Network: CBS
Episodes: 323 (hour)
Seasons: 14
TV show dates: September 22, 2009 — May 21, 2023
Series status: Cancelled
Performers include: Chris O'Donnell, LL Cool J, Peter Cambor, Daniela Ruah, Adam Jamal Craig, Linda Hunt, Barrett Foa, Eric Christian Olsen, Renée Felice Smith, Miguel Ferrer, Nia Long, Medalion Rahimi, Caleb Castille, and Gerald McRaney.
TV show description:      
This NCIS spin-off represents a special Naval Criminal Investigative Service division, the Office of Special Projects (OSP). The Los Angeles-based team targets dangerous and elusive criminals threatening the country's security. They assume false identities and utilize the most advanced technology to go deep undercover and put their lives on the line.
Agent G. Callen (Chris O'Donnell) is the lead agent on the team, and his natural talent for doing undercover work is legendary. He can be a bit of a chameleon. His partner is Special Agent Sam Hanna (LL Cool J), an ex-U.S. Navy SEAL who's seen action in Afghanistan and Iraq. From this experience, Hanna has a great knowledge of Arabic which makes him an expert on Middle-Eastern culture. He's also a surveillance expert who uses state-of-the-art monitoring equipment to help feed crucial information to his comrades.
Callen and Hanna are assisted by a top-notch group. Special Agent Kensi Blye (Daniela Ruah) is the very bright daughter of a slain Marine. She lives for the rush that comes with undercover work. Operational Psychologist Nate Getz (Peter Cambor) is an expert at getting in everybody's head, at profiling the target and monitor agents' states of mind before, during, and after their missions.
Dominic Vail (Adam Jamal Craig) is the most recent and very qualified addition to the team but lacks practical experience. Henrietta "Hetty" Lange (Linda Hunt) oversees the backroom support staff who is charged with providing everything from micro-surveillance cameras to cars on demand.
Series Finale:     
Episode #323 — New Beginnings, Part Two
The NCIS team continues the case with ATF and the stolen military-grade weapons. Also, Callen and Anna decide on an impromptu wedding.
First aired: May 21, 2023
What do you think? Do you like the NCIS: Los Angeles TV show? Do you think it should have been cancelled or renewed for a 15th season?
Check out our
CBS status sheet
to track the Tiffany network's new series pickups, renewals, and cancellations. You can find lists of cancelled shows
here
.