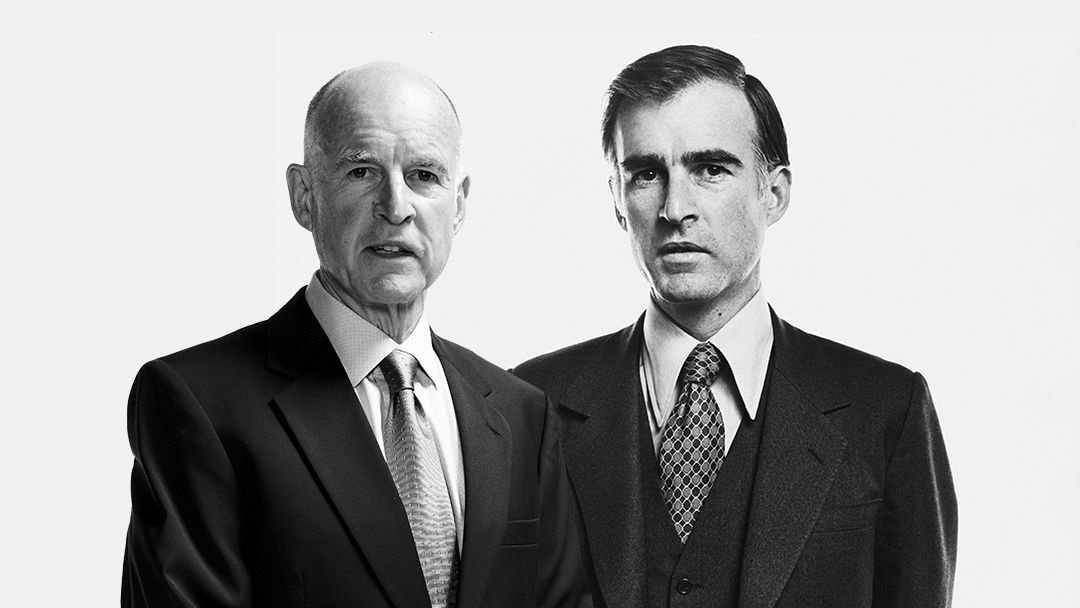 In November 1974, a young Jerry Brown stepped onto a stage in a three-piece pinstriped suit to deliver the most important speech of his career.
He had just won California's gubernatorial election, a pivotal moment in the state's political history. Ronald Reagan had been the state's governor for eight years, but when he declined to run for a third term, Democrats had an opportunity to wrest control from Republicans. The Democratic candidate was Jerry Brown, while the Republican candidate was Houston I. Flournoy (whose name, chiseled jaw and neatly parted hair almost made him the picture-perfect conservative). Throughout the campaign, Brown repeatedly warned voters that if Flournoy won, it would mean "four more years of Reaganism." Flournoy retorted that Brown was inexperienced and that his political success rested on the famous name of his father, Pat Brown, a twice-elected California governor. But, when the votes were counted that November night, Brown was crowned the victor. "I've been looking at the returns. I've been watching television, watching the wire services, and it's pretty obvious to me that you've got a Democratic governor in 1975," he told the applauding gathering. "Now, you see, some people think I got here because of my father. It's actually because of my mother." His mother, standing beside him that night, beamed with pride.
Brown was an unusual figure in American politics. Although he grew up in one of California's most powerful political families, he only ever observed power from the corridors and had no early ambitions to work in politics. Instead, Brown spent four years studying damnation and salvation at a Jesuit seminary, intending to become a Catholic priest. When he realized that priesthood wasn't for him, he enrolled at UC Berkeley, where he studied Classics and frequented the cafes where Allen Ginsberg penned "Howl." It was only after graduating from Yale Law School and, once again, realizing that this career was not for him that he sought something else. After overhearing his father and politician Jesse Unruh discussing who should run for governor in 1963, he felt invigorated. "I found that very exciting," he explained. "There was a vitality, an intensity."
This was the beginning of Brown's political life.
Brown was elected California Secretary of State in 1971 and governor four years later (in a poetic move, succeeding Reagan, who had defeated his father eight years earlier). He ran on the promise of bringing a "new spirit" to government, and he delivered. His Cabinet was largely made up of younger people in their 30s and 40s who gave fresh perspectives on how to handle California's challenges. He also eschewed many of the benefits that came with his position. Instead of residing in the freshly built 20,000-square-foot governor's mansion in Carmichael, he chose a modest $275-per-month apartment in downtown Sacramento, closer to his office. Rather than being chauffeured in a limo, like his predecessors, he drove a powder blue Plymouth Satellite. Following a morning meeting, his Chief of Staff, Gray Davis, suggested that the 10-inch hole in the rug beside the governor's desk be repaired since it was "unseemly." Brown replied: "That hole will save the state at least $500 million because legislators cannot come down and pound on my desk demanding lots of money for their pet programs while looking at a hole in my rug!"
Despite his frugality and progressive ideals, Brown dressed in clothes that today would mark him as a corporate lobbyist. He frequently wore 6×2 double-breasted suits with jetted pockets, spearpoint collars, and conservatively patterned neckties. He wore his ties with a four-in-hand knot—rather than the more common half-Windsor—which historically signaled a more privileged upbringing. When Richard Avedon shot his portrait in 1976, Brown donned a double-breasted blazer with pagoda shoulders, patched pockets, and peak lapels so wide they almost grazed his shoulder joints. His necktie that day was adorned with an equestrian motif—buckled belts and bridle reins were strewn across the silk, like the diagonal rep stripes on private club neckwear. The ensemble screamed, "MONEY!"
Brown's clothes were unusual for another reason. Since the end of the Second World War, the coat-and-tie has been dying a slow, anguished death. In his book "Rebel Style," Bruce Boyer framed the era's culture wars in clothing terms.
Establishment types wore the suit; anti-establishment types took to white T-shirts, blue jeans and black motorcycle jackets (a look that Marlon Brando turned into a rebel pose after his appearance in the 1953 film "The Wild One"). By the early 1970s, when Brown was elected, the suit had never been viewed with more suspicion. Civil unrest, the Watergate scandal, and frustrations over the Vietnam War contributed to a great distrust in traditional institutions. Yet, here was this young, 36-year-old Democrat from California championing progressive ideals—labor and environmental protections, diversity and inclusion, and warning people about the limits of economic growth—while dressed in three-piece pinstriped suits and double-breasted blazers. Boyer said that even the most dandyish politicians at the time, such as Texas's senator John Tower, "wouldn't have ventured that far."
His off-duty outfits were just as considered. Brown wore white flare-leg jeans with dress shirts and Adidas sneakers, or casual button-up shirts with preppy brushed Shetland knits slung across his shoulders. He avoided the dreaded term "clotheshorse" but certainly knew how to dress himself.
Brown's dashing style and progressive principles elevated him to rockstar status. He dated Linda Ronstadt and socialized with Jackson Browne and The Eagles. His meteoric climb to stardom and a string of political triumphs fueled his ambitions. He ran to be the Democratic nominee for President in 1976 but lost to Jimmy Carter. After his loss, Brown returned to California to serve another term as governor, and then briefly retired in 1982, only to return as Oakland mayor in 1999.
Even during those transitional years, he maintained his sense of style, wearing white turtlenecks under his black-and-white checkered flannel shirts, which he teamed with black jeans. In 2011, he was elected again as California's Governor, serving a third and fourth term before fully retiring in 2019.
Brown was one of the state's three best-dressed governors, along with Ronald Reagan and Gavin Newsom. Stylistically, he was unique in that he occupied that brief moment when a progressive politician could get away with wearing pinstripes and brass buttons during the last gasps of tailored clothing. Nowadays, he dresses much simpler, opting for comfortable casualwear and rarely updating his wardrobe. In an interview with Alta, his wife, Anne Gust Brown, revealed a bit about his current dress habits:
"He gets mad at me if I buy him a new sweater," she said. "He's like, 'Ah, oh, I already have a sweater.' The same with suits. It's like, 'I have a suit.' I'm like, 'I know, honey, but you wear the same one literally every day.' He hates things. He's not into possessions at all. He really just does not like to get things, either. He can live on almost nothing. He's had the same pair of running shoes for 25 years—and I'm not kidding."
Perhaps Brown is returning to his seminary roots.