Andrew Ahn did not want Bowen Yang to have diarrhea on Emmy night. This, the 2012 Project Involve Fellow explained, was the reason why a pivotal sequence in Fire Island—the director's buzzy new gay rom-com reworking of Pride and Prejudice now streaming on Hulu—was reimagined in order to keep the SNL star out of the E. coli-infested waters of south Long Island (well, that and SAG safety requirements.) The fraternal concern over Yang's gastrointestinal well-being on-set and off- was appropriate to Fire Island's themes of friendship and the "chosen family" camaraderie of the intersectional queer and POC communities.
"Chosen family" also describes Ahn's relationship to Film Independent. In addition to Project Involve, the Spa Night and Driveways filmmaker's path through the industry includes stops at Fi's Directing Lab (2014) and Screenwriting Lab (2013)—not to mention a John Cassavetes Film Independent Spirit Award win for Spa Night in 2017. All of which made the special May 25 screening of Island, Ahn's third feature, at Film Independent's Wilshire Boulevard screening room something of a homecoming.
Written by and starring comedian Joel Kim Booster, Fire Island marks Ahn's first foray into comedy, following an ensemble of hard-partying pals on their yearly retreat to the storied East Coast gay haven, with crisscrossing relationships and social dynamics heavily drawn from Jane Austen's classic 1813 novel.
Watch the full post-screening Q&A with Ahn above, and keep reading for some of the highlights—honestly, is there a better way to kick off Pride Month?
ANDREW AHN
To Quibi or not Quibi. When tasked with explaining how Margaret Cho's matriarchal Mrs. Bennet figure finds herself in such dire financial straights at the start of the film, Ahn explained that the ad-libbed joke used as a solution—"I was an early investor in Quibi!"—wasn't pulled at random. In fact, Booster had originally developed Island as a series for the doomed Jeffery Katzenberg streamer prior to its well-publicized collapse. Ahn even interviewed for the director's seat, but didn't get it. It wasn't until later, when the project was set up as a feature at Searchlight, that he returned to the project.
Party on! Moderating the Q&A, Film Independent President Josh Welsh asked Ahn if the film was as raucous and fun to shoot as its onscreen hijinks might suggest. "It was so much fun to make because of this cast and crew," said Ahn. "They're so funny, and they all understood the importance of a movie like this. The common goal was very galvanizing." Shooting on location on Fire Island for two weeks, cast and crew lived together at a bed and breakfast—Ahn recalled listening to Booster watching The Real Housewives each night through the vent in their shared wall.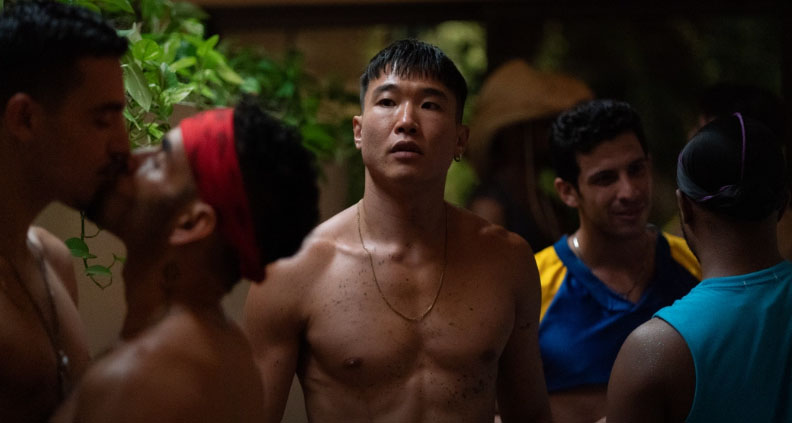 Strategic take-blowing. With the bulk of his cast drawn from the world of live comedy, Ahn found discovered that his actors weren't always sure if what they were doing was working, due to the lack of audience response. To assuage their fears, Ahn started allowing himself to laugh during the first take of each set-up, even if it meant the take would ultimately be unusable—much to the chagrin of the film's sound team. "Don't worry, I know what I'm doing," he assured them.
Room for improvement. "We wanted to use the genre as a bit of a Trojan Horse to talk about elements of the queer community that need work," said Ahn, referring to Fire Island's frank depiction of the classism and racism running through certain parts gay culture. "As a director I didn't want those things to get smoothed over. If anything, I wanted to emphasize those things so that it felt substantial," adding: "I think comedy is only funny if you acknowledge the pain that it comes out of," saying that by including these contrasting moments of darkness in the film, the moments of pure joy were only further emphasized.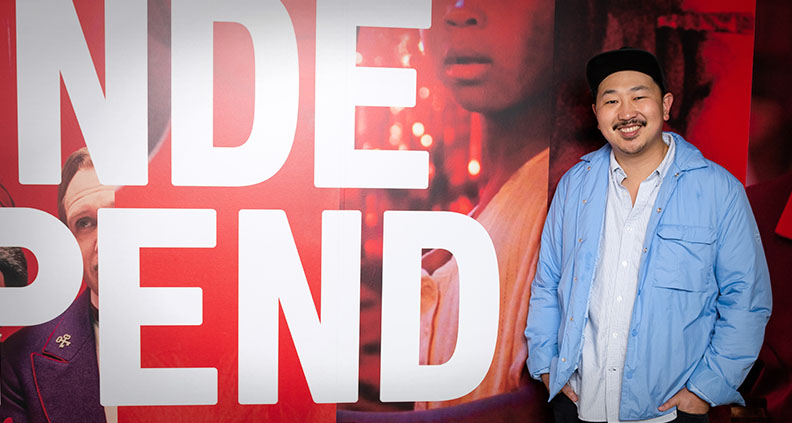 The only real advice. Welsh asked Ahn what advice he might give his younger self circa Project Involve 2012. "I'd be a little afraid I would somehow butterfly effect myself a different path," joked Ahn. He recalled P.I. guest speaker James Schamus offering a useful piece of advice. "He said, 'There's nothing I can say here that's really going to change anything, you just need to go out there and make stuff.' So I left early—I went home and started working on a script. You want to be a filmmaker, you ultimately have to make things."
No man is a (fire) island. "At the end of the day, I think what makes [making a movie] possible is having a community. Filmmaking is not a solo endeavor," said Ahn, elaborating on his relationship with Film Independent. "If you have a group of friends and if you meet collaborators, that just makes [doing this] so much more fun and achievable. I'm so thankful for organizations like Film Independent that have given me a network and put me in touch with people."
Film Independent promotes unique independent voices by helping filmmakers create and advance new work. To become a Member of Film Independent, just click here. To support us with a donation, click here.
More Film Independent…
(Header photo: Getty Images)