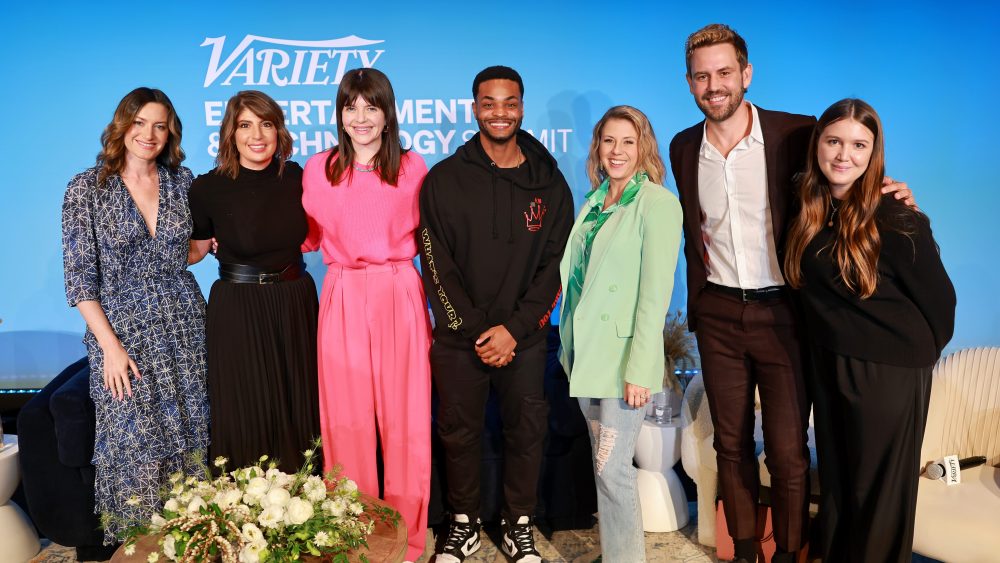 Leaders from Mattel, YouTube, Universal Pictures, Google, Amazon and more gathered at Variety's Entertainment and Technology summit, presented by City National Bank, to breakdown the future of marketing in the entertainment space. Panels included conversations with the leading experts on artificial intelligence, fan-focused growth on social media platforms such as YouTube and TikTok and the massive future of online gaming.
Here are a few of the key takeaways from a day of lively discourse.
'Barbie' Won't Be Mattel's Last Toy Turned Blockbuster 
Mattel CEO Ynon Kreiz said the "Barbie" movie was not a one-off. During his keynote talk at the summit Kreiz revealed that it's part and parcel of the company's long-range, deliberate strategy to manage its intellectual property as entertainment franchises rather than simply toys. Kreiz, who was named Mattel's chief executive in 2018, said movies and shows in development based on its brands include "Hot Wheels" from JJ Abrams, a movie based on the Rock 'Em Sock 'Em robot-fighting game starring Vin Diesel and "Polly Pocket," from writer-director Lena Dunham. In Barbie-land, he called out the animated series "Barbie: A Touch of Magic," which recently premiered on Netflix. 
Moderator Andrew Wallenstein, president and chief media analyst, Variety Intelligence Platform, cited research showing Barbie toy sales were up 25% in July and August amid the movie's hot theatrical run. Kreiz's response: "This was not about creating a movie to sell toys. This was not even about creating a movie. It was about creating a cultural moment."
"We're heading into a holiday season that nobody would expect to grow consumer demand. We expect the toy industry to be flat to slightly down overall but we have been growing market share significantly," he said. "We believe the toy industry is in a very good place when you look at it from a multi-year basis. It has been a growth industry, we expect it will continue to grow. It's a great part of the economy because it's resilient."
Digital Reach Expands When Prioritizing Multiple Platforms 
During the Building Hit Entertainment Across Platforms panel, executives talked at length about the importance of broadcasting content across a variety of platforms and niches. Russell Wallach, who serves as Live Nation's president of media and sponsorships, talked about providing fans with a broad spectrum of content that spans across platforms. 
"Historically you would've seen a full-page ad in a newspaper," Wallach said. "But now, an artist can sell out a global tour by sending something out on TikTok or Instagram. It really has changed, so the fans are able to find the artist because the artist is out there talking to them on a daily basis."
Richelle Parham, president of Universal Music Group's global e-commerce and business development, affirmed this sentiment, "it always starts with the artist, but [there's] different ways that we can create that connection" between artists and their fans. "A hit is when it's all of the different channels working hard, not just one channel," she added.
Brands Need to Allow Creators and Fans to Connect Organically 
At the Fan-First Marketing panel, Fox Entertainment's EVP of marketing and digital, Emily King, opened up about the importance of brands working with creators genuinely.
"It's important for each creator to be authentic to their brand and voice," said King. "But also for us as brands to be true to who we are and not try to be something that we're not. For entertainment brands, it's leaning into the people, creators and content that aligns with the content we're putting out there."
Angela Courtin, YouTube's VP/global head of brand marketing, doesn't believe effective modern marketing is about targeting one singular demographic, but rather optimizing content by "digging a little deeper into what's going to connect a creator to their audience." 
Anticipation For Theatrical Releases Can Be Built Through Modern Marketing
At the Moments-Based Marketing panel, Alessandra Torre, Meta's entertainment partnerships and creator industry lead, revealed the strategies that she used in partnership with Universal Pictures to create buzz around this summer's "Fast X." 
"I come in having worked close with the talent and cast, and also knowing that creator industry really well," she said, adding that part of Universal's strategy was to highlight the film introducing new cities to the franchise, citing Italy and Brazil as examples. "We were able to bring a truly global creator squad, first of its kind, to help amplify within different regions," she added.
Alex Sanger, executive VP of Universal Pictures' global digital marketing, shared that the studio utilized an "interactive" marketing approach with "M3GAN" which utilized chatbots that could connect fans with the murderous doll. "There were 20 million messages shared between Megan and our consumers," he said. "We're trying to create 1:1 experiences for our experiences and amplify beyond that."
Entertainment Storytelling Can Be Bridged Through Gaming 
"Barbie" quickly became the highest-grossing film of the year, not to mention Warner Bros. history, a feat supported by Mattel's legendary approach to its marketing. "[The film] drove a lot of momentum around the over 200 brands that Mattel owns," said Mike DeLaet, Mattel's global head of digital gaming. However, Mattel is pushing its IP through all mediums, including gaming. "Pre-movie we were already working on new projects," adds DeLaet, referencing a forthcoming Barbie experience within the Roblox platform. Beyond "Barbie," "Hot Wheels Unleashed" is a venerable gaming experience on multiple platforms, with a sequel due in October. Likewise, Mattel's "Masters of the Universe" character Skeletor will be playable in "Call of Duty" next month.
The biggest gaming brands like Fortnite and Roblox are no strangers to IP mixing within their platforms. "Because Roblox is a platform, our focus is on building tools that allow brands to [thrive]," said Roblox's head of entertainment partnerships, Todd Lichten. "Success happens when brands who know their properties are able to hook up with developers to give people on Roblox
they can't get anywhere else." For Lichten, entertainment storytelling is heightened when incorporating "a gaming element" into a product that serves as "a place for fans to collect."
Netflix Looks to Crack the Code on Blending Games With Video Streaming
Mike Verdu, VP of games at Netflix, discussed how the streamer has been able to elevate its content with the introduction of gaming titles — available for no extra cost. "Our games have no in-game monetization, they come as part of your subscription," Verdu explained. "Without the pressure to monetize, all you need to do is delight your players… It perfectly aligns the interests of the game makers and players."
The streamer's unscripted "Too Hot to Handle" series notably sported the gaming release of "Too Hot to Handle: Love Is a Game." "[The game] launched alongside Season 4 of the show," said Verdu. "Being able to play the show after watching it was a complement… People love it." 
Though its dating reality series saw success with the launch of a related game, Verdu admits "not every show needs a game," rather those that can launch alongside good shows and movies. "If you have something that's authentic and people who watch the show feel the same magic when playing the game, [it works]."
Consumers Drive Monetization, Not Companies 
At the New Business Drivers for the Media Industry panel, Mainak Mazumdar, EVP and chief advertising research and analytics officer for Fox Corp, spoke about the ways in which companies have had to refigure their monetization efforts. 
"The marketing objectives for an advertiser have not changed, distribution has" he started. "Data becomes very important because you have to target the audience that the client is looking for."
To that point, Evan Adlman, EVP of commercial sales and revenue operations at AMC Networks, remarked on how consumers now hold more power over their consumption. "We're no longer setting the appointment – the viewer is," said Adlman. "There's so much more viewership happening within these programs that happening outside of the traditional time [we've set]." He added, "Their premiere is tonight when they sit down and watch."
The Pros and Cons of AI
The Opportunity for AI panel sparked conversations about the upsides — and downsides — of AI in the entertainment industry. International expert in AI and machine learning Dr. Chris Mattmann noted that most of the uncertainty with AI is dependent upon "who owns it?" 
"AI is fueled by data, but the big problem with that is that data is not tabular with columns and rows," he said. "AI kind of expects the world to look like that," though Amazon's AI and machine learning general manager Ti White affirmed AI is "here to stay. I do not think it's a glitch or fad — it's mainstream." 
Microsoft Venture Fund M12 partner Hina Dixit believes that "if we can just give some time to understand the principles and things that AI can excel at, that can help us enable and remove some of these fears." 
Charles D. King Said Raising Capital Was Key to Develop MACRO's Award-Winning Films 
Charles D. King's MACRO, the multi-platform media company behind the Academy Award-winning "Judas and the Black Messiah," prioritizes representing the voice and perspectives of Black, indigenous and people of color. King explained that a major factor behind the company's success stems from securing capital in order to continue creating projects about underrepresented groups. 
King revealed that of MACRO's slate, around 90% of its film and TV projects wouldn't have been developed without capital. "I saw the lack of opportunity for diverse [demographics] through the industry," he said. "I knew that to really be a part of shifting the narrative, there's so much power to having the capital to develop." 
For MACRO, King said "It's important for us to be in every genre" moving forward. "We think that there are more stories to tell about the greatness of who we are, in terms of historical perspective." 
Creators Have to Experiment to Find Their Niche
At the final Creators in the Zeitgeist panel, WME digital agent Madeline Baldi explained that the key to success in the content creation space comes with "finding your niche." She added, "The most important thing is regardless of where you sit in digital, it's finding your niche."
For Nick Viall, former lead of "The Bachelor" and host of "The Viall Files" podcast, it takes "a balance of trying to listen to my audience by also sometimes trying not to listen to my audience." Shifting from the "Bachelor" world into the digital space, Viall explained he broke into the field by "trying a lot of things."
"I was just trying to see what stuck," said Viall. "I was the person who, with friends, people would come to for relationship advice." From there, Viall "stayed consistent" with his passion to create a relationship advice adjacent podcast. "For me, it was like 'Wow I found my thing,'" he added. "It wasn't something I was doing on the side, it was something I was focused on how I could build."