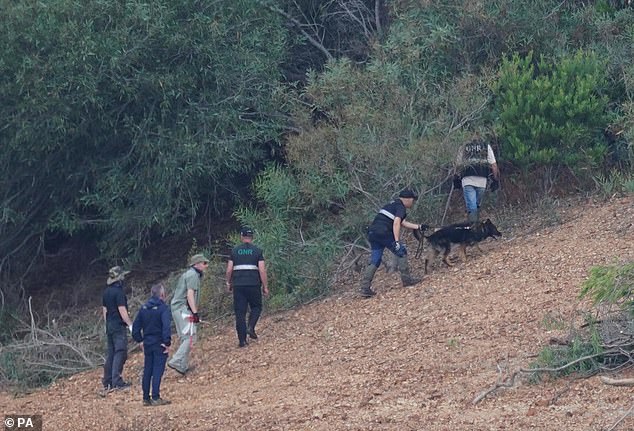 The search for Madeleine McCann at a remote reservoir in Portugal is expected to enter a third day, local police sources have said, after investigators cut down tree branches and brought in sniffer dogs to scour a secluded woodland spot.
It was claimed today that the search for evidence connecting the toddler's 2007 disappearance to chief suspect Christian Brueckner was launched following a tip from a 'very credible' German police informer.
Respected Portuguese media outlet Expresso said the informant gave detectives 'details' they took 'very seriously.' The flagship weekly publication named Rainer Grimm as the man leading the probe for Germany's central criminal investigation agency the BKA, saying he was among the officers at the site. 
This came after reports said officials are seeking any fragments of clothing and old rags that could be related to her disappearance – particularly the pink pyjamas she was wearing the night she vanished.
It is now understood that the search will continue into a third day, Portuguese media have reported. Police sources suggested the same, with several outlets saying the thunderstorm that hit the area on Tuesday night had delayed activity.
Investigators hunting for signs of Madeleine McCann cut down tree branches and brought in sniffier dogs today (pictured) as they investigated a secluded woodland spot next to a remote Algarve reservoir said to be linked to chief suspect Christian Brueckner
Pictured: Personnel at Barragem do Arade reservoir, in the Algave, Portugal, as searches continue as part of the investigation into the disappearance of Madeleine McCann. The area is around 50km from Praia da Luz where Madeleine went missing in 2007
This morning police appeared to be focusing on a valley (pictured) slightly north of a secluded clearing behind trees near to where three tents were put up on Monday
Pictured: A boat is seen ready to launch on to the reservoir in Portugal today as searches continue of the area for evidence linking Brueckner to Madeleine McCann's disappearance
 Madeleine (left) was aged three in May 2007 when she vanished from her bedroom in the apartment her family were staying at in the Praia da Luz resort on the Algarve coast. German prosecutors believe Christian Brueckner (right) is behind her disappearance
A no-fly zone over the area is due to end at 10pm local time on Wednesday but by mid-afternoon this has not been extended.
It is not yet clear if they will continue on Friday, although the current operation was initially earmarked as a two to three day search. 
The hunt is focusing on the foreshore as the water level in the reservoir is considerably lower due to low rainfall last few months. This may explain why no divers have been seen operating in the area although they are on standby.
Photos and footage of the search operation today showed a group of Portugal's National Republican Guard (GNR) being led by sniffer dogs to a small grove close to the water's edge. Officers were seen clearing branches shortly after.
According to Expresso, the operation was launched because of a 'very credible tip'.
'Expresso knows that these searches have their origin in a tip from a BKA informant who that police force considers very credible,' it reported on its website. 'This informant told investigators details that the German police took very seriously.'
It added: 'The searches were requested by the German police after receiving this information.' The media outlet said it had obtained its information from a 'source close to the investigation.'  
Emergency services with brush cutters to clear the search area arrived at the temporary camp set up on the shores of the Arade reservoir early on Wednesday.
Portuguese police, assisted by German and British counterparts, had focused their search on Tuesday on the reservoir's shoreline.
This morning police appeared to be focusing on a valley slightly north of a secluded clearing behind trees near to where three tents were put up on Monday.
The dense vegetation meant they had to use tools including chainsaws to remove trees to access it properly.
Meanwhile, a fire service vehicle and rigid-hull inflatable boat were again on the banks of the reservoir, and appeared ready to launch on to the water. 
Later in the day, emergency services brought in a remote-controlled tractor-mounted tree cutter to clear what appeared to be a new search area, a few hundred yards away from a temporary camp set up on Tuesday on the shores of the Arade reservoir by Portuguese police, assisted by German and British counterparts. 
Madeleine was aged three in May 2007 when she vanished from her bedroom in the apartment her family were staying at in the Praia da Luz resort on the Algarve coast. The reservoir is about 31 miles inland from the resort.
The first major search for the toddler in nine years comes after German police discovered photos of Brueckner at his self-described 'little paradise' in the Portuguese region, it is understood.
German prosecutors last year named convicted child abuser and drug dealer Brueckner as the prime suspect in McCann's disappearance. 
He is currently behind bars in Germany for raping a 72-year-old woman in the same area of the Algarve region from where McCann went missing.
The case, unsolved for the past 16 years, remains a mystery as no body has ever been found. It sparked a media frenzy in Britain, with developments also followed by outlets around the world and celebrities joining appeals to help find Madeleine.
Pictured: Investigators are seen with hedge trimmers as they search the reservoir today 
Pictured: An investigator is seen with a large strimmer near the reservoir today
Pictured: Investigators carry tools up a slope near to the water's edge today
Reports have said officers, who are acting on 'credible information', are seeking any fragments of clothing and old rags that could be related to her disappearance – particularly the pink pyjamas she was wearing the night she vanished. Pictured: investigators load up a car ahead of the second day of searching for signs of missing toddler Madeleine McCann
Pictured: White police tents are seen near the bank of the reservoir in the Algarve region in southern Portugal. They are part of a temporary base camp set up by investigators
On Wednesday, the German prosecutor leading the country's investigation into Brueckner's suspected link to Madeleine's disappearance said they do not have a confession from the convict.
Braunschweig prosecutor Christian Wolters said that while investigators have 'indications' that evidence could be found at the reservoir, this has not come from Brueckner himself.
'We have indications that we could find evidence there. I don't want to say what that is exactly, and I also don't want to say where these indications come from,' Wolters told German public broadcaster NDR today.
'The only thing that I would clarify is that it doesn't come from the suspect – so we don't have a confession or anything similar now, or an indication from the suspect of where it would make sense to search, ' Wolters said, adding that 'it was other indications that prompted us to conduct this search.'
However, Wolters appeared to calm expectations of what might be found, saying, 'We never said that the girl disappeared where we are now searching.' 
Tuesday saw about 20 officers with rakes and hoe-like tools spread out in a line, poking and raking the soil close to the Arade dam. Police also used a drone to scan the area from above and searched with sniffer dogs on both sides of the water.
Footage from the site showed officers taking bags away from the reservoir yesterday afternoon but it was not clear what was inside them. One video showed an officer being handed a bag by a colleague as they drove by in a black Ford SUV.
Last night a Portuguese source close to the investigation told The Sun: 'The search is being taken very seriously and is being controlled totally by the Germans. 
'They asked Portuguese officers assisting them to look for any evidence – but especially rags.'
The Times reported that Madeleine's pyjamas, which were pink and decorated with images of Eeyore from Winnie The Pooh, were a focus of the hunt. 
A similar pair of pyjamas was held up by Kate and Gerry McCann during a press conference in June 2007, the month after their daughter vanished, in the hope of prompting witnesses who may have seen her that night to come forward. 
Also last night the McCann's former spokesman Clarence Mitchell told the Mirror the couple were being kept updated.
'Until a body is found and proved to be Madeleine's, Kate and Gerry are not giving up hope. They will be kept informed every step of the way of any development. It leaves Kate and Gerry on tenterhooks. It is another incredibly difficult time for them.'
Pictured: Investigators in Portugal bring in grass strimmers to cut back the undergrowth to aid in their search today for Madeleine McCann 
Pictured: A police search team walk on the shore of the Arade dam near Silves, Portugal, Wednesday May 24. A police truck is seen parked on a peninsula that jets out into the lake
Pictured: A group of investigators are seen today walking down the bank of the reservoir
Pictured: A blue police tent is seen today set up near the reservoir
Pictured: Kate (right) and Gerry McCann, parents of missing 4-year-old British girl Madeleine McCann hold pyjamas similar to those of their daughter during a press conference in Berlin on June 6, 2007. Police are believed to be searching for signs of her pyjamas
According to Portuguese outlet Correio da Manha, excavations were carried out at two different spots around the water's edge on Tuesday. 
The reservoir is currently less than half full owing to a drought affecting Portugal and neighboring Spain. Much of the area being searched would be below water level in years of normal rainfall. 
In the afternoon police appeared to be concentrating their efforts on a peninsula of land jutting into the reservoir.
Officers using sticks were beating back undergrowth as they inched their way through the woods before fanning down onto the beach to carry on the search. 
However, just before 5.30pm, a violent thunderstorm and driving rain struck the search area and the operation was abandoned after it became clear the weather would not improve. The search was meant to continue until 9pm.
A no fly zone has been set up around the area extending for six miles. 
This is due to expire at 10pm on Wednesday night fuelling suggestions the search will only be short.
The Portuguese police are expected to give an update on the operation once it has been completed later this week.
A picture taken on 24 May, 2023 shows a general view of the Arade dam, in Silves, on the second day of a new search operation amid the investigation into the disappearance of Madeleine McCann
Portuguese Judicial Police (PJ) criminal investigation unit members work in the Arade dam area, in Silves, on 24 May
Portuguese Judicial Police (PJ) criminal investigation unit members work in the Arade dam area, in Silves, on 24 May
Two sides of the area have gently sloping banks towards the water, while the third is a sheer cliff, where three white police tents could be seen set back from the edge.
The reservoir is popular with tourists, particularly campervan users, and has BBQ stands and sun loungers scattered around.
Brueckner is known to have driven there frequently in his VW campervan, and is understood to have described it as his 'little paradise'.
Sources close to the investigation have said they had evidence the clearing in the trees – where the white tents have been set up – was the spot Brueckner used to spend time at after parking up his campervan nearby.
A local who asked not to be named, but knows the area well, said: 'It's pretty well-hidden by the trees and you don't realise it's there until you're almost upon it.
'People wild camp there overnight from time to time which is why you'll find the remains of fires inside small walls of stone.
'It's got old sun loungers in it and makeshift benches that visitors use to rest on. It's very out-of-the-way and very peaceful but at the same time it's got a slightly eerie feel about it,' they said.
Local Portuguese reports, partly confirmed by police sources, claimed the searches were requested and authorised after German police obtained videos and photos of Brueckner by the planned dig site.
They are thought to have been found buried in the paedophile's 'secret lair' in a dilapidated factory site in the German village of Neuwegersleben 65 miles south-east of Hanover. 
Police raided the site in February 2016 in search of the body of missing five-year-old Inga Gehricke, who vanished while on a family outing in Saxony-Anhalt in May 2015 and has been dubbed the 'German Maddie.'
Reports at the time said German detectives had discovered more than 8,000 images and videos on USB sticks and hard drives filled with child abuse images.
They were said to have been buried under the body of Brueckner's dead dog.
Pictured: Journalists are seen as Portuguese Judicial Police (PJ) criminal investigation unit members work in the Arade dam area, in Silves, May 24
Officials have been tight-lipped about the search.
In a statement on Tuesday, German prosecutor Wolters said: 'Criminal proceedings are currently taking place in Portugal as part of the investigation into the Madeleine McCann case. Wolters said German officers are investigating in Portugal 'on the basis of certain tips.'
He said he was unable at this stage to give more detail on what prompted the search, and what officials were hoping to find, but said that such details would be released 'if we… think the results are publishable'.
'Yes, the measures in Portugal are connected with the Madeleine McCann proceedings, which means that we are investigating there in Portugal on the basis of certain tips (tip-offs),' Wolters said on Tuesday.
'There is a major search operation taking place that is being implemented by the Portuguese authorities. But there are also German officers from the Federal Criminal Police Office on site who are supporting the whole thing.'
He added: 'I can't disclose the background at the moment, i.e. why we are searching there and what we hope to find there. That shall remain our secret for the moment.'
'If we find something and we think the results are publishable, then we will certainly inform you about it. But give us a little bit of time. The action itself will also take a bit of time. It will not be completed within two hours or so. And whether we then find something and what we find, of course, we have to see that first.'
The Metropolitan Police has said officers are present in Portugal so they can inform Madeleine's family if there are any developments.
Detective Chief Inspector Mark Cranwell said: 'The Met continues to work with and support colleagues in Portugal and Germany, with their investigations into the disappearance of Madeleine McCann.
'Met officers will be in Portugal and I am grateful to the Policia Judiciaria and Bundeskriminalamt for allowing us to be present whilst their work is ongoing, so that we can inform Madeleine's family of any developments.'
Pictured: Officials are seen on the peninsula that jets out into the reservoir today
The reservoir was searched by divers hired by a Portuguese lawyer in February and March 2008. Back then, the diving team leader described the 'long process' his team faced navigating the 'black' waters.
Marcos Aragao Correia organised the privately-funded operation after claiming he had been tipped off by underworld contacts that Madeleine had been murdered and her body thrown into the reservoir within 48 hours of her disappearance.
Two bags containing small bones were found during the second search after divers had earlier recovered several lengths of cord, some plastic tape and a single white cotton sock.
Portuguese police were alerted following the discovery but subsequently ruled out the possibility the bones were human because of their size.
Madeleine's parents Gerry and Kate McCann had previously dismissed Mr Correia as a self-publicist and said there was no evidence suggesting any link between their daughter and the reservoir.
The dam, near the town of Silves where a lorry driver says he saw a woman handing a child like Madeleine over to a man two days after she went missing from her Praia da Luz holiday apartment on May 3 2007, is not thought to have been searched since March 2008 as part of the ongoing investigation into her disappearance.
The search is the first major operation of its kind since June 2014 when British police were given permission to do digs in Praia da Luz that involved sniffer dogs trained in detecting bodies and ground-penetrating radar.
The Scotland Yard digs nearly nine years ago in Praia da Luz were linked to the leading UK police theory at the time Madeleine died during a break-in and burglars dumped her body nearby.
The searches failed to find any trace of the missing youngster.
In a smaller operation in July 2020 Portuguese police and firefighters searched three wells for Madeleine's body but failed to find any trace of her.
The abandoned wells are a 15 minute drive from a cottage Brueckner rented on the outskirts of Praia de Luz, on a narrow road leading down to a beach where the paedophile used to park his VW camper van.
German prosecutor Wolters has consistently said he is convinced Madeleine is dead and caged paedophile Brueckner has been named as the sole suspect.
The deviant, currently serving time for the September 2005 rape of an American OPA in the resort where Madeleine vanished, has yet to face any formal accusation over the youngster's disappearance.
Last April he was made an official suspect or arguido in Portugal over Madeleine's disappearance, although his defence lawyer Friedrich Fulscher labelled it a 'procedural trick' linked to statute of limitations legislation at the time.
Last autumn Bruecker was charged in Germany with several sex crimes on the Algarve against women and children including the rape of an Irish holiday rep in 2004 and the sexual abuse of a 10-year-old girl on a beach near Praia da Luz in 2007.
Brueckner's lawyer revealed in April those charges had been dropped against him in a bombshell development after successfully arguing prosecutors had no jurisdiction over him in Braunschweig where the Madeleine case was being brought.
Portuguese media outlets reported yesterday that excavations at the reservoir had begun, with video appearing to show police officers digging at the site
The case could end up with prosecutors in Saxony-Anhalt instead but an appeal lodged by the Braunschweig public prosecutor's office has yet to be decided.
Braunschweig prosecutor Mr Wolters has insisted they are still in control of the Madeleine McCann investigation and Brueckner, who denies any involvement in Madeleine's disappearance, remains in custody.
The Arade Dam, the Barragem do Arade in Portuguese, is fed by the watercourse of the Arade River whose source lies to the southwest of the Serrra do Caldeirao mountain range and runs through the municipalities of Silves, Lagoa and Portimao before reaching the ocean.
Construction was completed in 1955 and it began operating the following year.