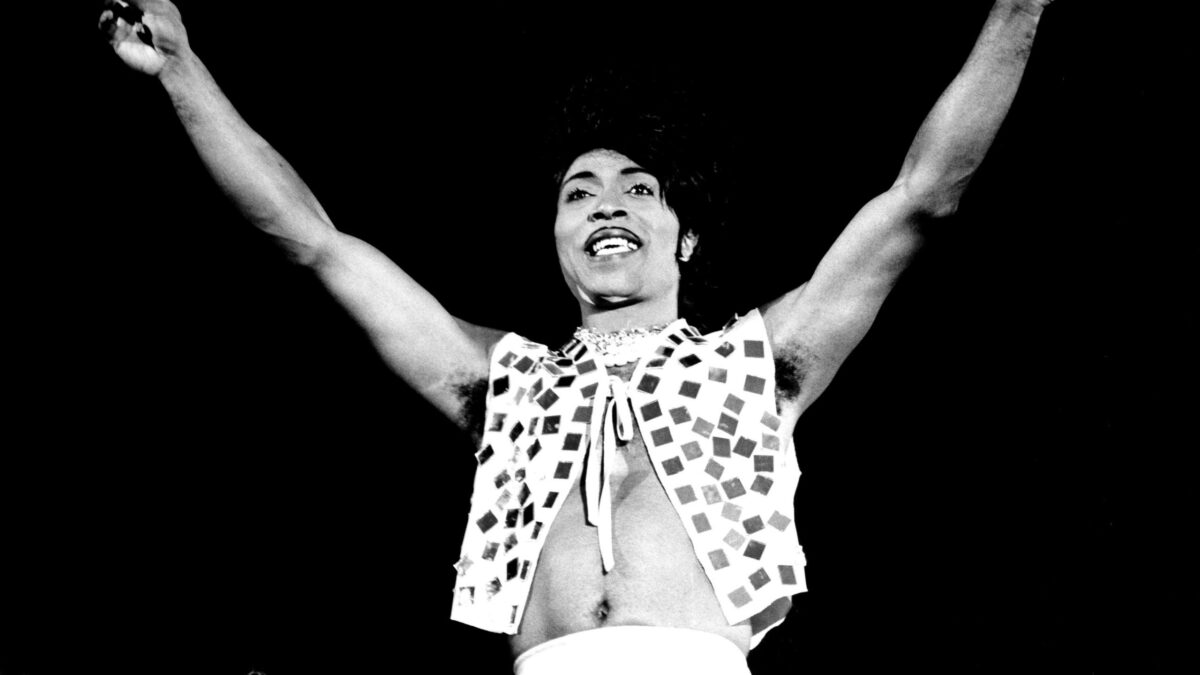 Little Richard took 1950s America and the world by storm with hits like "Tutti Frutti," "Long Tall Sally," "Good Golly Miss Molly" and "Lucille." The Beatles and The Rolling Stones supported him, and drew inspiration from his musicianship and stagecraft. He would go on to influence artists as diverse as David Bowie, Elton John, Michael Jackson and Prince, and he spent his career advocating for the rights of Black artists. This timeline explores Little Richard's life and the major milestones in his career.
1932
Richard Wayne Penniman is born in Macon, Georgia, on December 5, 1932. He grows up surrounded by music – on the street, in church and on the radio.
1932
1946
JOINING THE CHITLIN' CIRCUIT
Aged 14, Richard leaves home and joins a traveling show – as he's so young they name him "Little Richard," and he becomes their vocalist. He finds himself performing on the so-called "Chitlin' Circuit" of Black entertainment venues.
1946
1951 – 1954
Richard continues touring, and joins forces first with gospel-influenced band The Tempo Toppers, and then with the rhythm and blues inspired Upsetters.
1951 – 1954
1955
Richard records "Tutti Frutti" in New Orleans.
1955
1955
THE SUCCESS OF "TUTTI FRUTTI"
"Tutti Frutti" reaches number 2 in the Rhythm and Blues charts, and 13 in the nationwide pop charts – a significant and early instance of 'crossover,' where a Black artist successfully sells to a white audience.
1955
1956
Richard's next hit single "Long Tall Sally" hits No. 1 on the Billboard Rhythm and Blues Best-Sellers chart. Pat Boone and then Elvis cover "Tutti Frutti."
1956
1957
QUITTING ROCK 'N' ROLL
Just as Richard reaches the pinnacle of his '50s success, he quits rock 'n' roll and dedicates his life to religion.
1957
1960
Richard releases three gospel albums.
1960
1962
TOURING THE UK
Richard tours the UK for the first time and is supported by an unknown band called The Beatles.
1962
1963
Richard tours the UK again and is supported by The Rolling Stones.
1963
1984
Charles White releases Richard's authorized biography "Quasar of Rock: The Life and Times of Little Richard" and Richard is inducted into the Georgia Music Hall of Fame.
1984
1986
Richard is inducted into the Rock and Roll Hall of Fame as part of its first group of inductees.
1986
1990
A star on the Hollywood Walk of Fame is placed in Little Richard's honor.
1990
1993
LIFETIME ACHIEVEMENT AWARD
Richard receives a Grammy Lifetime Achievement Award and preforms at President Bill Clinton's inaugural gala.
[Photo by Robert McNeely.]
1993
2003
Richard is inducted into the Songwriters Hall of Fame.
2003
2008
Richard is placed number 12 on Rolling Stone magazine's list of their 100 greatest singers.
2008
2012
Richard plays a 90-minute show at the Pensacola Interstate Fair at 79 years old.
2012
2020
On May 9, 2020, Little Richard passes away from bone cancer at the age of 87.
2020