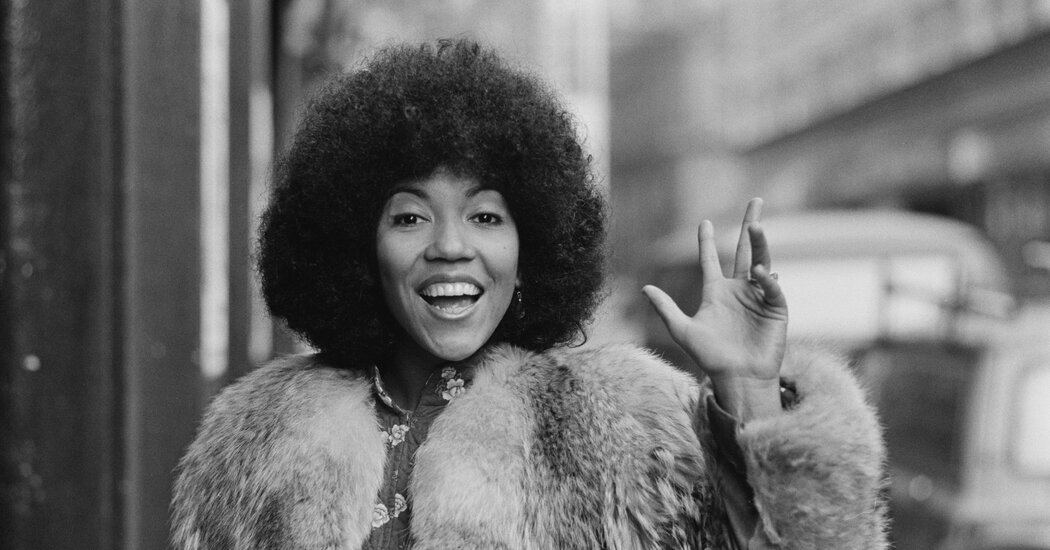 Linda Lewis, a critically acclaimed soul singer and songwriter whose pyrotechnic voice propelled four Top 10 singles as a solo artist in her native Britain and led to work as a backup vocalist on acclaimed albums by stars like David Bowie, Cat Stevens and Rod Stewart, died on May 3 at her home in Waltham Abbey, outside London. She was 72.
Her sister Dee Lewis Clay confirmed the death but did not specify a cause.
Ms. Lewis drew raves for her soaring five-octave vocal range and impressed listeners with her genre-hopping instincts, drawing from folk, R&B, rock, reggae, pop and — with more than a nudge from label executives — disco.
She grew up studying Motown hits note by note, and her first single, "You Turned My Bitter Into Sweet" (1967), was a joyous up-tempo number that sounded straight out of Berry Gordy's recording studio on West Grand Boulevard in Detroit.
After that she joined the Ferris Wheel, a rock and soul band that was popular on Britain's club circuit, before moving on to a solo career as a guitar-strumming singer-songwriter and signing with Reprise Records in 1971.
"That was a great time," she said in a 2007 interview with Record Collector magazine. "I was living in a sort of commune, and loads of people were popping in and out. Cat Stevens turned up a lot, as did Marc Bolan and Elton John. There was a lot of jamming going on there, some very creative vibes."
She ended up touring the world with Mr. Stevens (who later took the name Yusuf after converting to Islam), as well as lending her voice to albums like David Bowie's "Aladdin Sane" (1973) and Rod Stewart's "Blondes Have More Fun" (1978).
Her first solo album, "Say No More," released in 1971, failed to make a splash commercially. The next year she released "Lark," an album marked by a California breeziness that received strong reviews and included the song "Old Smokey," which the rapper Common sampled in his 2005 song "Go!" An American tour in 1973 helped create buzz.
But still, she needed a hit.
She found one that same year, with the buoyant, racy single "Rock a Doodle Doo," which hit No. 15 in Britain (although it failed to chart in the United States). It showed off her range with vocals that swung from husky lows to shimmering highs, to the point that the song could be mistaken for a duet.
In the mid-1970s, she signed with Arista Records, whose founder, Clive Davis, chose to package her as a disco diva like Gloria Gaynor. That decision paid dividends, at least commercially. Her 1975 single "It's in His Kiss," a Studio 54-ready spin on Betty Everett's 1964 hit "The Shoop Shoop Song (It's in His Kiss)," reached No. 6 in Britain, although it, too, barely made a splash in the United States.
But Ms. Lewis bristled at the forced career turn. "I didn't really stick to my guns, I'm afraid," she later said. "I saw myself as a singer-songwriter; they didn't."
Even so, the album with the single, "Not a Little Girl Anymore," hit No. 40 in Britain, with Rolling Stone noting that it brought "this multi-styled English artist into the mainstream of contemporary R&B."
By the 2000s, her music had crossed over to a new generation, as she sang on albums by Oasis, Basement Jaxx and Jamiroquai.
Linda Ann Fredericks was born on Sept. 27, 1950, in Custom House, an area in the docklands of East London. She was one of six children of Eddie Fredericks, a musician, and Lily Fredericks, who worked as a bus conductor and managed pubs. (It is unclear why the singer chose Lewis as her stage surname.)
Her mother had great ambitions for her as a performer and enrolled her in stage school, an experience on which Ms. Lewis did not look back fondly.
Her compass was set toward music. She got her first taste of the limelight in her early teens, when her mother took her to see John Lee Hooker perform at a club and pushed her to the stage to belt out, with the blues titan's permission, a rendition of Martha and the Vandellas' "Dancing in the Street."
In addition to Ms. Lewis Clay, she is survived by two other sisters, Shirley Lewis and Patsy Wildman; her brothers, Keith and Paul Fredericks; and her son, Jesse. Her three marriages ended in divorce.
While Ms. Lewis angled to escape stage school at the earliest possible opportunity, her flirtation with acting was not a complete waste. She made a brief appearance in the Tony Richardson film "A Taste of Honey" (1961). She also popped up as a screaming fan in the Beatles movie "A Hard Day's Night" (1964).
She was not the only future musical notable in the crowd of hysterical Beatlemaniacs. Phil Collins, in his schoolboy jacket and tie, was also on set as an extra. "Many years later, I bumped into him and said, 'Hey, we made a film together,'" Ms. Lewis told Record Collector. "He gave me a very funny look. I think he thought I was a nutter."