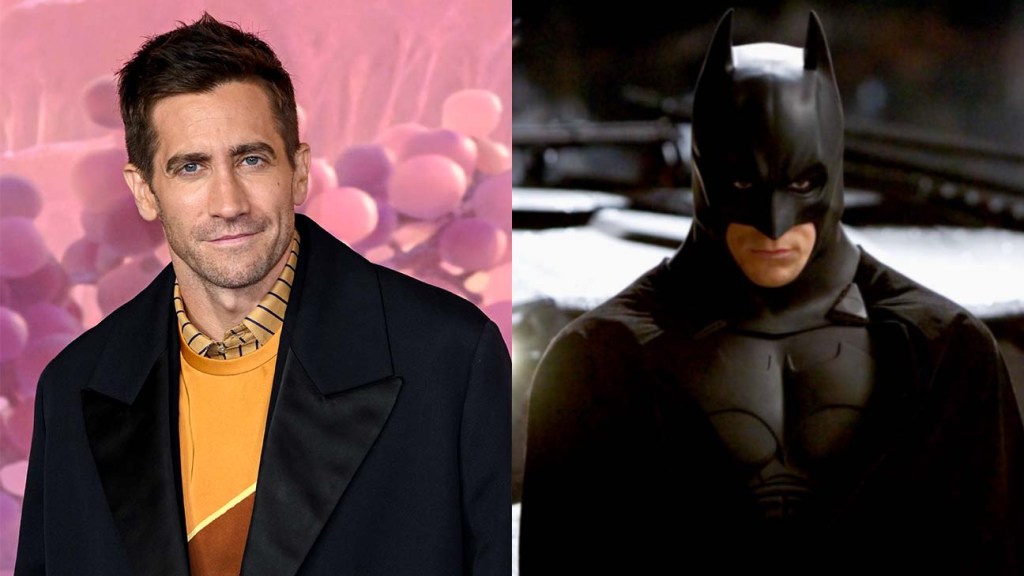 [This story contains spoilers for Batman Begins and The Dark Knight Rises.]
It's hard to imagine anyone other than Christian Bale in the Batsuit for Christopher Nolan's Dark Knight trilogy, but screenwriter David S. Goyer revealed that Jake Gyllenhaal was considered for the role.
During Thursday's episode of the Happy Sad Confused podcast, Goyer, who helped develop the trilogy's story and co-wrote 2005's Batman Begins, said that after a number of people screen-tested for the part of Batman, aka Bruce Wayne, in the first film, he "advocated for Gyllenhaal."
"I mean, Gyllenhaal's amazing, Christian Bale's amazing, so who knows what," he added.
When host Josh Horowitz asked him if there's any footage somewhere of Gyllenhaal auditioning in the Batman costume, the scribe said, "I believe there is, yes."
As for other roles in Nolan's trilogy, Goyer said, "There were a couple of different candidates in the running for Ra's Al Ghul," but that he voted for Liam Neeson because he "was a little older." He said it made more sense with the story they were trying to tell regarding "this paternal story about the shadow of his [Bruce's] father."
In Batman Begins, Ken Watanabe was credited as portraying villain Ra's al Ghul as a decoy while Neeson, who was the real Ra's al Ghul and returned for 2012's The Dark Knight Rises, was credited by his alias Henri Ducard.
Later in the episode, Goyer also recalled an executive from Warner Bros. suggesting to him at the premiere of 2008's The Dark Knight that Leonardo DiCaprio should play the Riddler in the next film. But Goyer told him, "That's not the way we work."
He said Nolan is "very process driven" and was "staunchly against" building a movie around the villain "because he said that's not a bottom, ground-up way of telling a story. Let's do it in a very naturalistic way, so let's figure out what kind of story we want to tell and what we thematically want to explore with Bruce, and then let's figure out a villain that fits that story."