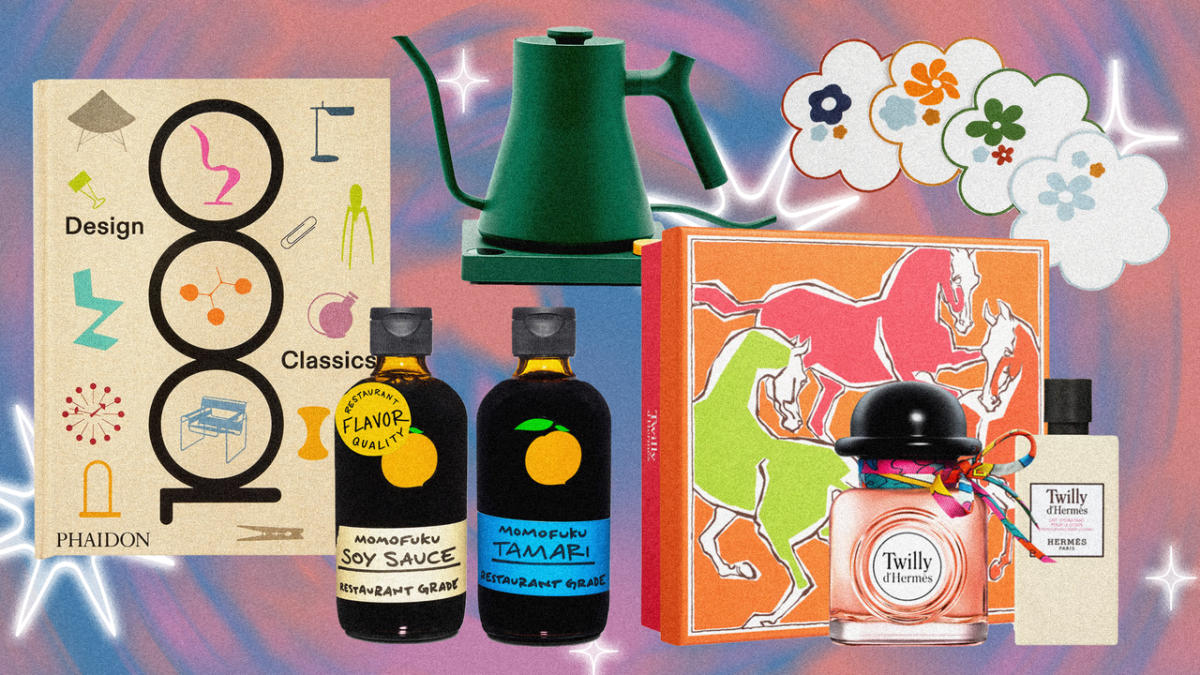 Whether you know exactly what they're wishing for or it's still a mystery waiting to be solved, we're here to help you find the best gifts. We've scanned the web, reviews, and polled editors for unique gift ideas for even your hardest-to-shop-for friends—from presents for people who have everything to inexpensive gift ideas for your coworkers, and then some—we corralled them all into one holiday guide for you to browse and shop at ease.
Looking for a housewarming gift that doesn't cost nearly as much as a cashmere throw? A custom illustration of their new home is the perfect personalized present. Want to splurge on a gift for your mother-in-law that will actually impress? Why not go halfsies with your partner on a Kindle Paperwhite? Need a trendy gift for a teen or tween? Most will be happy with any tech gadget (think a gaming headset or a smart notebook), and you can't go wrong with a bundle from TikTok popular beauty brands, like Glossier.
Practical Secret Santa gifts, birthday presents for your favorite aunt, and even gifts for new moms, everything here is guaranteed to make the lucky recipient—no matter who it actually is—feel special. Ahead, shop all the best gift ideas to add to your holiday shopping list in 2023, including stellar last-minute options you can find Amazon just in case you end up procrastinating. No judgment! You've got a lot of people to buy for.
Our Top Picks:
First up, we have gifts for all the leading women in your life: your sister, your grandma, your godmother, or your colleague-turned-work wife. Highlights include a best-selling Kate Spade bangle (with a hidden inscription that reminds her that she has a heart of gold) and luxurious (and washable) silk sleepwear from Lunya. Even if she's not a tea drinker, this adorable kettle from Anthropologie will be a welcome addition to her countertop, and an initial necklace from one of our fave jewelry brands is always a nice touch. And if she's always on the move, she'll love a travel-friendly perfume kit featuring a brand-new scent from Hermès and a customized jewelry case—two of our favorite gifts to give—to keep her baubles organized.
Few guys care about the things we think they do (e.g., leather passport holders and nubby-knit sweaters) and just want cool gifts they can actually use. Our advice? Skip the expensive clothing that'll collect dust and go for presents for dads and gifts for husbands you know he'll be excited about. Take this popular Geekey gadget, which features 16 tools—like a metric ruler, wire stripper, and bottle opener—in a tiny, inexpensive form. Is he into his grooming and self-care? Add a Chanel cologne to his fall perfume collection as a luxe splurge. And for the guy who's been a goofball his entire life, a personalized pair of socks with a collage of his face will literally make him LOL. Or, better yet, use your own face. And who knew you could get such a cool watch on Amazon?
Sorry, not sorry, but teens actually know what's cool, so your gifts will need to impress them. Gift the teens in your circle popular, TikTok-viral items like the Stanley stainless steel water bottle and Bella Hadid-approved mini Ugg boots. If she's a growing beauty enthusiast, she'll be ecstatic to unwrap Laneige's overnight lip mask or a full gift set from Glossier. Keep her skin care products (and her favorite drinks) fresh with a mini-fridge. And if she's a fan of anything cute, she probably already has a few Squishmallows on her list.
Picking the perfect gifts for teens, especially teenage boys, involves meeting them on their level. If he's devoted to looking cool, he probably wants a pair of Uggs he can wear to school. If he's obsessed with music and TV, you can't go wrong with tech gifts like a projector set, noise-canceling Bluetooth headphones, extra-long chargers, or an all-in-one record player kit. And if he's just here for a good time, encourage his fun-loving side with a magnetic pen or an age-appropriate party game—then sit back and wait for an extra-tight hug.
You probably know what your husband wants (or needs) better than he does. Guys who ride a bike to work could use a folding helmet to store at their desks; they could also probably use a robotic massage to target sore feet at the end of a long day. Any guy who loves to look and smell will appreciate a high-quality shirt from J.Crew and a signature scent that's complex and intriguing. Plus, both of you will get a kick out of the great gift that is Lelo's sex toy for men, which doubles as a couples' vibrator.
Best Gifts for Wives
The best Christmas gift for your wife—and any woman in general—is one she wants, but would never buy herself. Upgrade her pajamas and she'll be comfier than ever. Give her a cute case of matches to beautify her favorite nook or coffee table. Tory Burch bags (and best-selling monogram necklaces, for that matter) are a love language in and of themselves. And date night can be as simple as making homemade ravioli together or splitting the work on a paint-by-numbers kit—two relatively affordable activities that'll make her feel like a million bucks.
Even if you've known your BFF longer than almost anyone else, it's only natural to run out of gift ideas after a while. Thankfully, we've got you covered. When in doubt, a great accessory—like a Lululemon fanny pack, a heart-shaped ring, or an intention bracelet—is bound to please the stylish best friend. If you two are exercise buddies, she'll love the thought behind a new pair of Amazon-famous black leggings. Oh, and while candles might seem like a cop-out, they really aren't—as long as you can back up your pick by telling your friend that you bought them Anthropologie's official scent in candle form.
Now onto the kiddos! It's all about zeroing in on their age. One-year-olds adore push toys. Two-year olds can entertain themselves for hours with ABC blocks and construction trucks, while active toy gifts for three-year-olds are ideal since they're at an age when they're just full. of. energy. Buying a present for a four-year-old? How about a talking telescope? The parents we polled say their five-year-olds love this fort building kit. Or you could always just tap into your own inner child and shop for things you would've loved back in the day, like a Crayola Light Board or colorful personalized wood blocks so they can practice spelling their name. (A gift subscription from Lovevery is also an easy choice—and a great last-minute pick.) If they're a little older, they'll like lighting up their room with a cool gadget that projects stars on the ceiling that Glamour editors are obsessed with (yes, even the adults).
Chances are the gift Mom wants most is for you to call her every week or for you to pop in for a surprise visit. But that doesn't mean material presents will be refused. Nudge mom to indulge in a little self-care and mindfulness with the Five Minute Journal full of prompts to jot down gratitude points and future goals. (It's a nice gift for new moms, too.) Make her mornings a little easier with a viral sunrise lamp and memory foam slippers that look way more expensive than they actually are. Treat her to a birthday gift like no other with a candle from Birthdate Co., which customizes each scent for every single day of the year. And UrbanStems's subscription service is a sure way to remind her that you're thinking of her well beyond the holidays with fresh blooms delivered to her doorstep monthly. (Send it now or save this idea for 2024 when you need a Mother's Day gift.)
Dad knows best, right? (Or so you told him with his Father's Day gifts.) Shopping for him can feel a little tricky, but it doesn't have to. If he's the type of dad to sit back in his recliner and binge-watch his favorite show all night, he'll need some cozy slippers to do so. On the other hand, if he's quite the comedian (or needs some new material), a book of dad jokes will have the both of you chuckling. And parents love holding on to memories, so gifting dad a digital picture frame that displays a slideshow of his loved ones all day is sure to make him smile. Don't forget the foodies! A trio of flavor-packed hot sauces and a countertop pizza cooker will take his kitchen escapades to new heights.
Whether or not you call your annual gift exchange "White Elephant," you know the vibe: You have to find a crowd-pleasing present within a certain budget, which usually doesn't exceed $30. We've all had an off year or two, but we can pretty much guarantee that everyone will be fighting over these picks this time around. There are a few popular options for foodies and hostesses, some very fun desk toys, and even a Barbie-themed hoodie, because yes, we are all Kenough.
OK, so your giftee has very specific taste or the means to buy everything they want—but all is not lost. It's just time to go with personalized, thoughtful gifts or pick up something that's very cute and not at all necessary. Customized mugs and stationery are always winners, and the candle below will even dole out a tarot reading. On the cute front, a lava lamp, heatable stuffed animal, or aesthetically-pleasing air fryer will make anyone happy.
Sticking to a budget can actually make shopping for Christmas gifts more enjoyable (and easier!). Your limit is set so your creativity can sort of run wild. Wondering where to start? Browse through Amazon for some gems like an herb-growing kit, and a mini Le Creuset cocotte for cooking with said herbs. And other aspiring chefs will appreciate cookbooks like the Ottolenghi Test Kitchen full of yummy recipes like tandoori chickpeas and za'atar mac and cheese. If you're getting a gift for a coworker, the Storm Cloud weather predictor works as a great desk companion. And who wouldn't love perfectly moisturized skin (courtesy of a Burt's Bees gift basket) or an endless supply of waffles?
Amazon has a little something for everyone, but you already knew that. Make them think that you didn't break a sweat while gift shopping for stocking stuffers, presents for the home, and beyond. We love this bestselling Nodpod that's like a weighted blanket for your eyes. Keep the wellness theme going with silk pillowcases and neck and shoulder massagers. Amazon devices are also popular around the holidays, especially the Kindle for all the bookworms out there. We'd also be remiss not to mention a perfect travel mug and an instant camera, which are genuine crowdpleasers. Plus, you can buy a MasterClass membership seconds before your gift is due—and no one will be the wiser.