The Kardashians fans are divided by Kourtney's husband, Travis Barker. Some Redditors think that the Blink-182 drummer comes off as weird and creepy.
Many The Kardashians fans are getting weird vibes from Kourtney Kardashian's husband, Travis Barker. Kris Jenner and the late Robert Kardashian Sr.'s eldest daughter married the Blink-182 drummer for the third time in May 2022, at an intimate ceremony in Italy. The duo's relationship is known for featuring over-the-top public displays of affection, which aren't always warmly received. However, the newlywed couple has ignored the criticism, and appears to be going strong.
Travis and Kourtney purchased a house together, and Kourtney is reportedly happy to be called, "Mrs. Barker." In a short time, a lot has changed, as Travis used to be Kourtney's neighbor, and a family friend of the Kardashians. The famous clan has welcomed the relationship between the The Kardashians' Kourtney Kardashian and Travis Barker with open arms. The only exception is Kourtney's ex, Scott Disick.
Related: Why The Kardashians Fans Think Kim & Khloé Loathe Kourtney's Style
Kourtney Kardashian's Fans Are Wary Of Travis Barker
While the Kardashian family members may have accepted Travis into the fold, some odd things about Travis have been noted, which have been talked about since their relationship began. In an episode of The Kardashians season 2, momager Kris revealed to Kourtney that Travis had told her he moved to Calabasas years ago so he could be close to Kourtney. Redditor DebateDifficult7111 started a thread discussing their thoughts on Kourtney's new husband, saying, "So just curious…does anyone else find Travis Barker to be low key weird?
That Redditor continued, "Like when kris was talking about how Travis said he moved to calabasas because he knew kourtney lived there I was like…." Travis' romantic gesture was perceived as quite inappropriate and creepy. The second half of "Kravis" is giving off creepy vibes to fans of The Kardashians.
Has Travis Barker Been Interested In Kourtney For Years?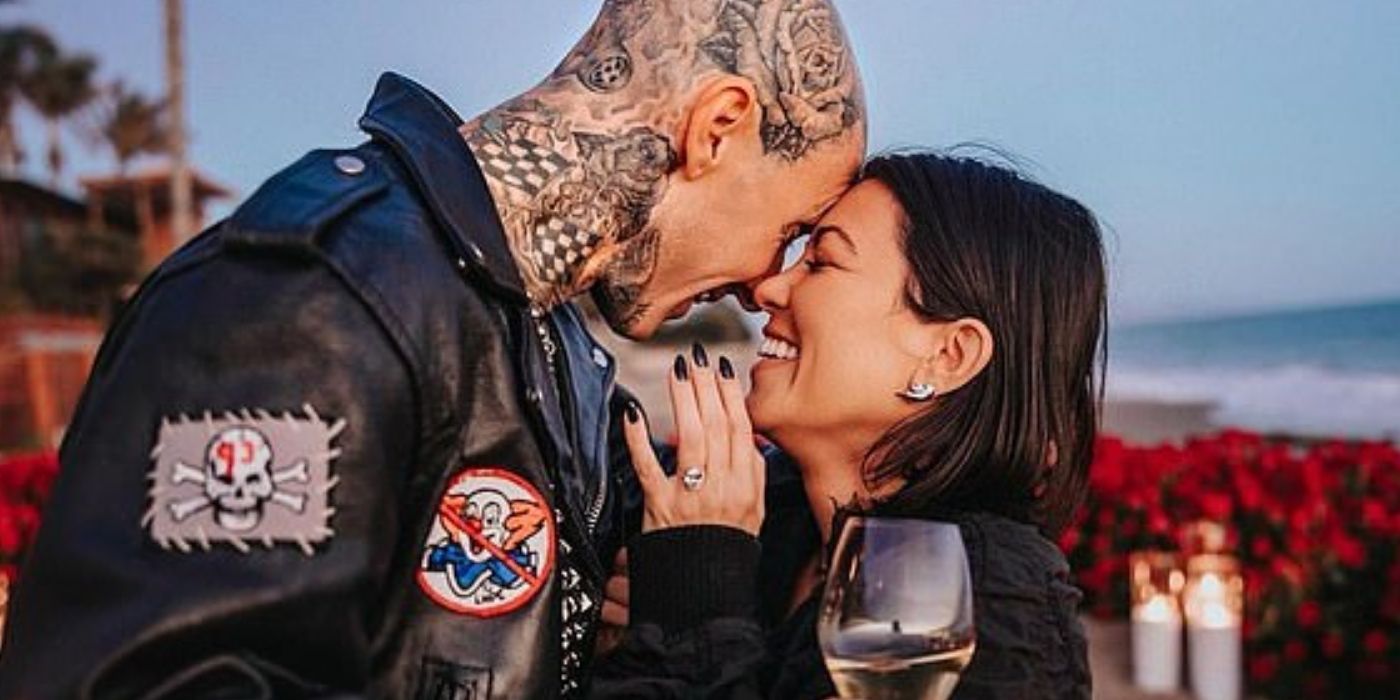 Other people seemed to be on the same page, noting that Travis made them uncomfortable. On the thread, Reddit user loveyourlife19 stated, "Yes, he's [Travis] definitely a creeper!" Another user, justbrowsin2424, talked about Travis relocating to Calabasas, "They [Kardashians] all view it as endearing and sweet but in any other instance it would be considered stalking and creepy." There was also a lot of discussion on the thread about Kourtney and Travis' extreme PDA, which has made many viewers cringe.
Among others, Reddit user Ambitious-Food4499 admitted, "I really don't like him [Travis], all the constant pda is creepy and super uncomfortable to watch, let alone be around." It appears that the Blink-182 drummer is making a lot of Kardashian fans feel uneasy, on The Kardashians and online. However, Reddit user Randchick jokingly reminded others that Travis is not creepy, because he's, "just a scorpio." They meant that Scorpios usually have intense personalities.
Related: KUWTK: What Shanna Moakler Thinks Of Kourtney & Travis Barker
Some fans mentioned that despite the strange impression they got from him, they like Kourtney and Travis together. In the end, fans are glad that Kourtney seems happy again, especially after her relationship drama with Scott. Nevertheless, The Kardashians fans still think there is something off about Travis. He may be a little clingy with his wife.
More: Kris Jenner Joins In On Viral 'Krissed' TikTok Trend
Source: DebateDifficult7111/Reddit
Monica has a BA in Journalism and English from the University of Massachusetts and an MS in Journalism and Communications from Quinnipiac University. Monica has worked as a journalist for over 20 years covering all things entertainment. She has covered everything from San Diego Comic-Con, The SAG Awards, Academy Awards, and more. Monica has been published in Variety, Swagger Magazine, Emmy Magazine, CNN, AP, Hidden Remote, and more. For the past 10 years, she has added PR and marketing to her list of talents as the president of Prime Entertainment Publicity, LLC. Monica is ready for anything and is proudly obsessed with pop culture.