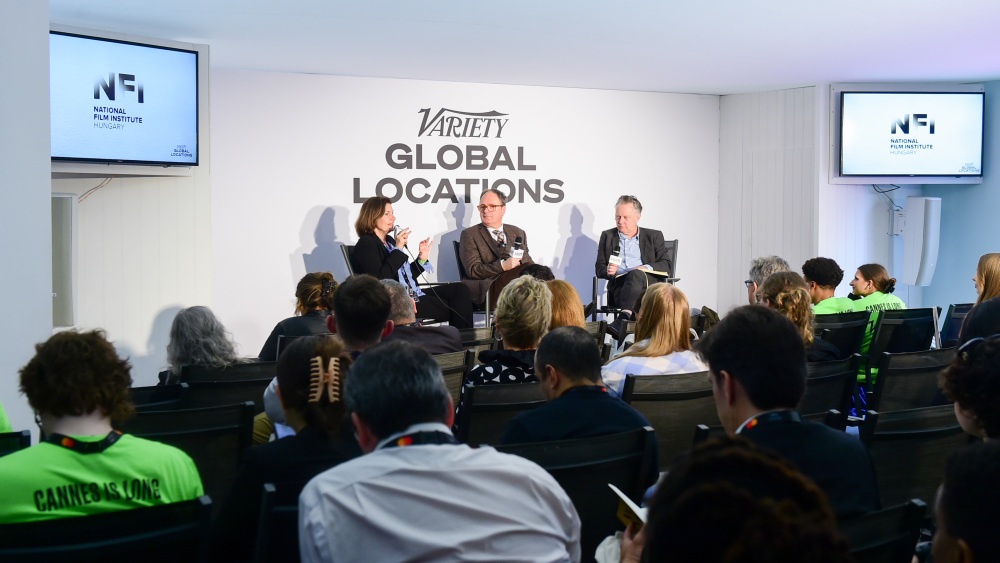 Csaba Káel, film commissioner and chairman of Hungary's National Film Institute, and Ildiko Kemeny, CEO/producer of Pioneer Stillking Films, sat down with Variety's Leo Barraclough at Cannes Film Festival to discuss Hungary's booming film production.
Káel and Kemeny reveal that the plethora of shooting locations in Hungary is a key selling point for the country and its film marketplace.
Kemeny started out the conversation by highlighting that Hungary is an already large tourist hub, a quality the country utilizes to increase its presence in the film industry. "After London, we are in second place in international productions."
Hungary has placed a great emphasis on rebuilding the infrastructure surrounding Budapest, one of its hottest locations for film projects. "We have five studios around Budapest and from the center, you can reach [them in] 20 minutes," said Káel. "We had to develop not only the studios, [but also the] hotels in Budapest."
Káel and Kemeny both agree that Hungary's expansive architectural diversity has created an impressive backlot of filming locations, and their meticulous cataloging of these possible shooting spots has improved the quality of production in the country. "If we are talking about the location, we have a wonderful backlot," said Káel. "You can find [everything from] Gothic churches to American streets."
"We just completed a Disney production at the backlot, which was a huge challenge," added Kemeny. "The backlot was one of the biggest attractions for them to actually come and work with us."
Hungary's close proximity to neighboring European countries allowed for the project to profit in a major way. "To add to the film, we could actually travel with the convenience of a Hungarian crew," said Kemeny. "We worked for four weeks in Austria, where they have rebates so we maximize your tax rebate, [and] then we went to Romania." 
Watch the full conversation above.