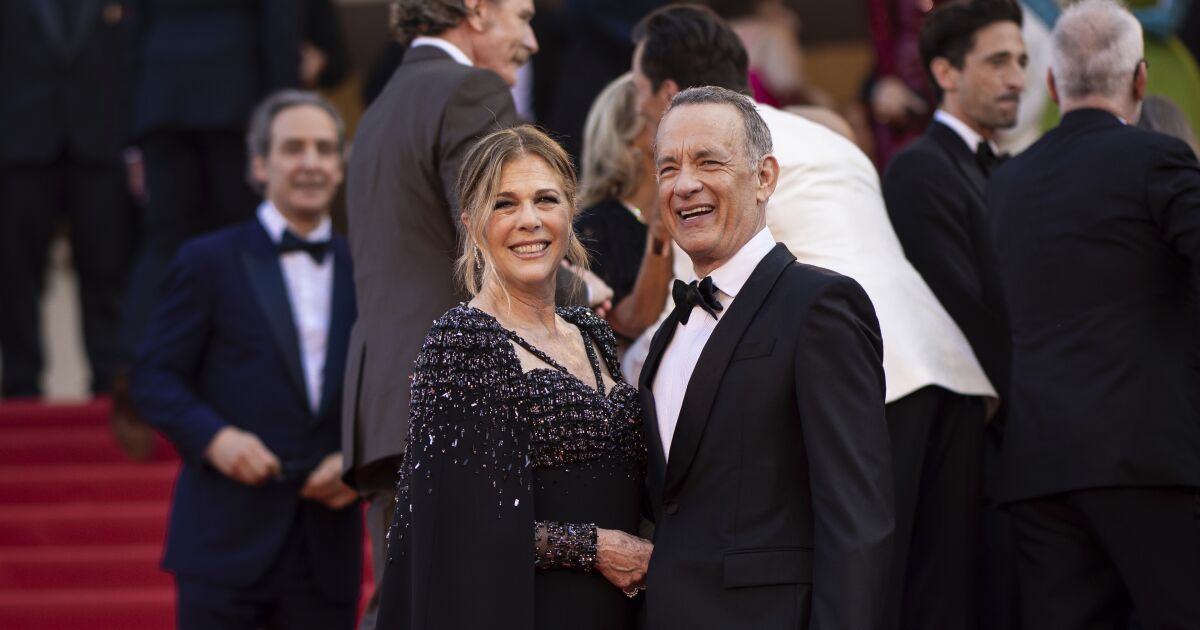 Tabloids are reporting that Tom Hanks appeared to become "uncharacteristically frustrated" and "miffed" at the Cannes Film Festival — and Rita Wilson Cannes not even.
On Tuesday, the "Jingle All the Way" and "Kimi" actor laughed off a Daily Mail story claiming that she and her husband, Hanks, "exchanged some heated words" with a staff member at Cannes during the premiere of their new film, "Asteroid City."
The article's sensational headline read, "Raving Private Ryan! Tom Hanks and wife Rita Wilson remonstrate with a red carpet staffer as they attend the 76th Cannes Film Festival premiere of Asteroid City." The report also included several photos of Hanks pointing his finger, cupping his ear, balling his fist and staring intently at said staffer during their allegedly "terse interaction" on the red carpet.
According to Wilson, however, she and Hanks were simply trying their best to focus on the employee's instructions amid the elegant chaos of the event.
"This is called I can't hear you. People are screaming. What did you say? Where are we supposed to go?" Wilson wrote on her Instagram story.
"But that doesn't sell stories! Nice try. We had a great time! Go see Asteroid City!"
Hanks and Wilson attended Tuesday's screening of director Wes Anderson's latest feature alongside Scarlett Johansson, Jason Schwartzman, Maya Hawke, Bryan Cranston, Matt Dillon, Jeffrey Wright, Steve Carell and other members of the star-studded cast.
Hanks plays a lonely grandfather in the quirky extraterrestrial comedy, which received a six-minute standing ovation at the festival, according to Variety. Wilson is also credited on the IMDb page for "Asteroid City" in an unspecified role.
Though Wilson claims her husband didn't lose his temper at Cannes, Hanks has been known to get testy at work in the past — or so he says. During the recent press tour for his debut novel, the "Forrest Gump" and "Cast Away" star attempted to hedge his reputation as one of the nicest folks in the biz by admitting that he has occasionally behaved badly behind the scenes.
"Not everybody is at their best every single day on a motion picture set," he told the BBC.
"I've had tough days trying to be a professional when my life has been falling apart in more ways than one and the requirement for me that day is to be funny, charming and loving — and it's the last way I feel."