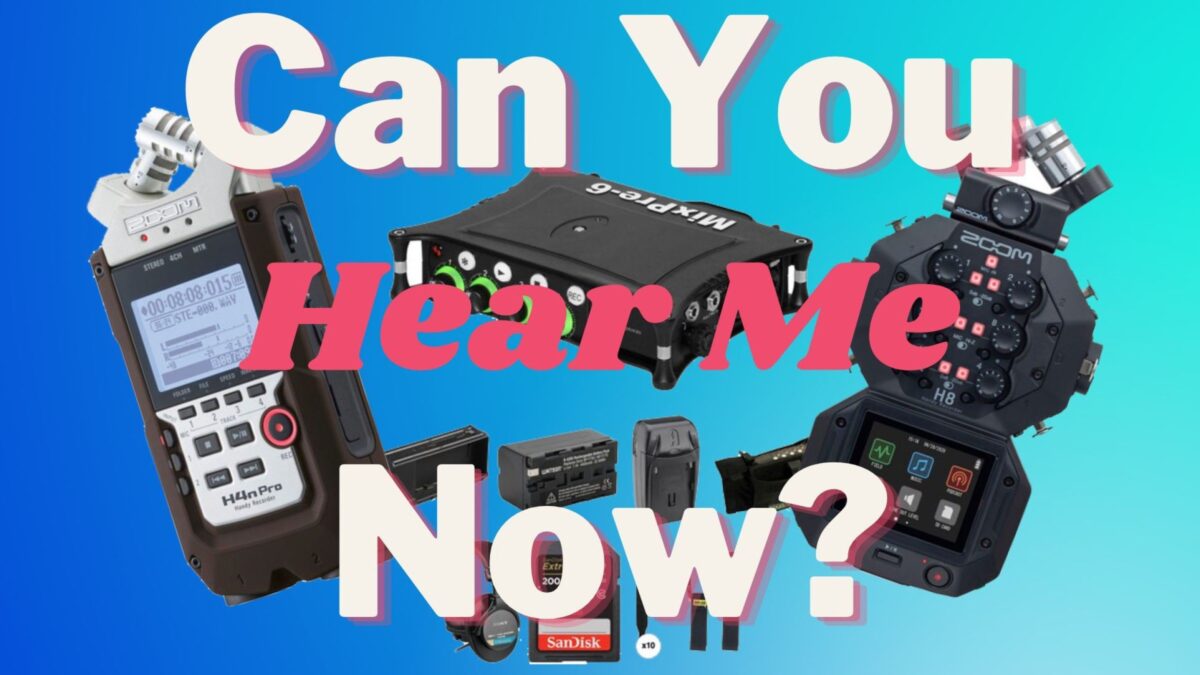 For our "Deals of the Week," we found some audio recording solutions to tackle your next project on a budget.

Whether you're doing a podcast, interviews, or even a short film, having crisp audio will make or break your content. Having a good recorder on hand will not only make your job easier but give you the foundation you need to build your image. 
For our Deals of the Week, we found some awesome production on sale to get you started.
The Zoom H4n has been around for ages, and it's a tried and true piece of kit. The Zoom H4n Pro is the latest of the series, even if it has been on the market for a while. 
Like other H-Series Handy recorders such as the H5 and H6, you can hold it in your hand, attach it to a mic stand or tripod, or mount it to a camera (shoe mount available separately). The H4n Pro packs a surprising array of features into a rugged rubberized body that's more than ready to meet the varied demands of songwriters, musicians, filmmakers, sound designers, content creators, and more.
From plentiful battery life to powerful audio processing functions, the H4n Pro is well equipped to handle anything from tracking live performances, demos, and complete songs, to recording sound effects, interviews, and meetings. It can supply phantom or plug-in power for condenser mics and accepts direct connections from an instrument such as a guitar, bass, or keyboard. No matter the source, selectable auto-recording, and prerecording ensure you'll never miss the start of a take. I have a 10-year-old Zoom H4n that I still use to this day and it hasn't let me down yet.
The Zoom H8 is the bigger sibling of the H4n Pro with the same reliability but a whole lot more features. With three app-driven modes that instantly configure the color touchscreen for podcasting, music production, or location recording, the Zoom H8 portable handheld recorder lets you quickly record up to eight simultaneous input signals via a workflow that's highly optimized for your task. Plus, it's compatible with an array of capsules (available separately) for easy expansion into 10-input recording, Ambisonics 360-degree audio, and more.
If you need some extra oomph and coverage, the Zoom H8 is your go-to audio recorder. 
But what if you need a full kit? This Sound Devices MixPre-6 II Essentials Kit includes a 32-Bit audio recorder, mixer, and USB interface alongside many useful items. Included are a custom-fit field case for the MixPre-6 II, a pair of Sony MDR-7506 headphones for monitoring in the field, a lithium-ion battery sled for the mixer, a lithium-ion battery, battery charger, an SDHC memory card, a pack of cable-organizing strips, and a carabiner-style cable carrier.
The Sound Devices MixPre-6 II multitrack field recorder is a solid choice for independent filmmakers, field recordists, and Ambisonic enthusiasts who need pristine audio capture of up to four microphones. Record up to six tracks of external sources (four channels via XLR-1/4″ combo jacks and two channels via a 3.5mm mini jack)—as well as a stereo mix—at sample rates and resolutions of up to 192 kHz / 32-bit, all while monitoring audio in headphones. If you choose to use the MixPre-6 II as your studio interface, you'll be able to achieve sample rates up to 96 kHz. 
Which one do you need in your kit? Let us know in the comments!