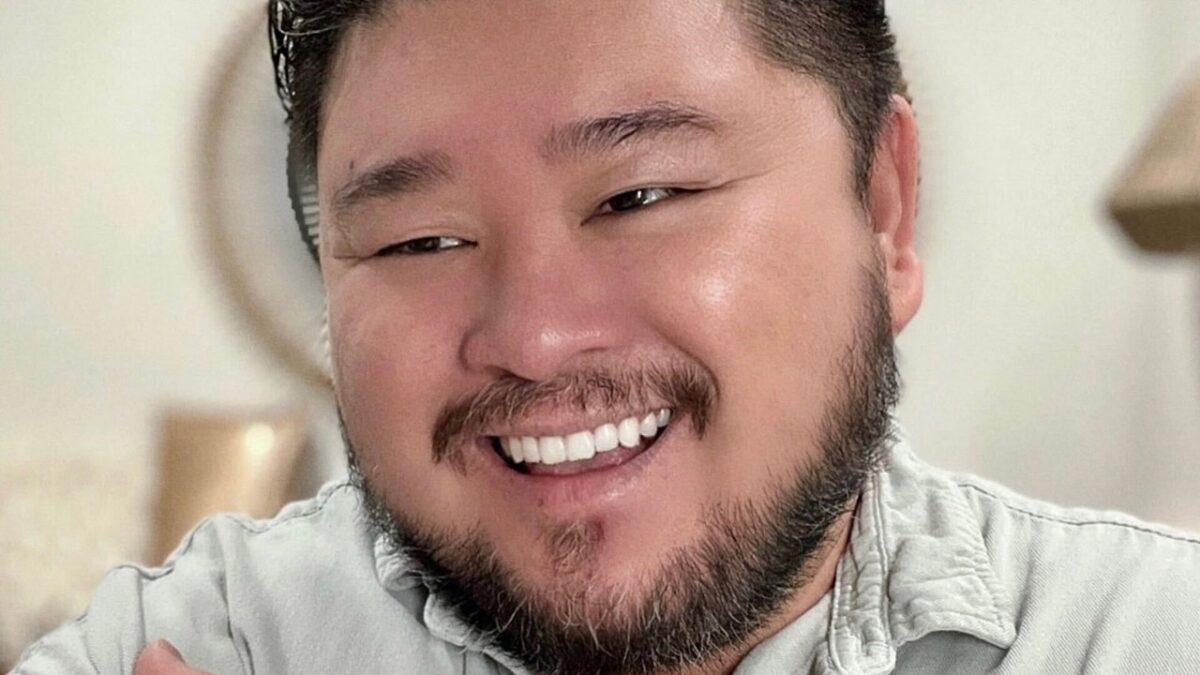 If you've ever double-tapped a glam photo of your favorite It girl on Instagram, chances are Allan Avendaño is behind her makeup look. Known for his flawless makeup and skill with colors and shapes, Avendaño has created viral looks for the likes of Jenna Ortega, Gigi Hadid, Stephanie Hsu, Sabrina Carpenter, Jodie Turner-Smith, Joey King, and Michaela Jaé Rodriguez. He also serves on the L'Oreal Paris League of Experts, a collective of makeup artists dedicated to improving inclusivity and sustainability in beauty. 
Inclusivity is especially important to Avendaño, who was born in the Philippines and moved to Los Angeles as a child. As a proud Asian American, Avendaño is celebrating AAPI Heritage month by showing his support for AAPI-owned businesses. "My husband and I have a goal to eat different types of Asian foods every single day and support a lot of Asian businesses," he tells Glamour. "I went with my niece to this little shopping center in Temple City by my house—it's all Asian there. I bought a bunch of beauty supplies. Especially on social media, I want to spotlight Asian issues that are going on and uplift a lot of Asian businesses, especially beauty businesses." 
When it comes to AAPI-owned beauty brands, Avendaño is a huge fan of sensitive skin-friendly makeup brand Tower 28 and skin care brand House of M. "The House of M Saffron line is really wonderful," he says. "Also, the fact that Tower 28 is clean beauty, which is something that I've been really into as well, it is a big plus for me." 
As for his favorite Filipino foods? Avendaño and his husband love eating sisig, lumpiang shanghai, and sinigang. "My husband is not Filipino, he is Caucasian, but he eats everything. I will grab sinigang powder mix and freaking put it on everything I make," he says. "I don't just make the soup with it. It's so funny."
Ahead, Allan Avendaño shares his skin prep routine and best makeup tricks, plus the best moisturizer to use under makeup for Glamour's Drop the Routine. 
My cleanser
There is a charcoal exfoliating powder from Well People that I like to use that will slough off all the dead skin. It also really refines my pores without being so aggressive because I'm terrified of exfoliants. A lot of times when you have psoriasis on your skin and you rub too much, it can cause new patches. So this is amazing; it will take off the dry skin or any sort of dead skin and leave you feeling like your pores are refined. Your skin feels glowy and not tight, just refined.
The other thing from Well People I like is the Juice Cleanse Soothing Aloe Face Cleanser. It's gentle on my skin and effectively cleanses. I also really enjoy the way that I can double cleanse if I wore concealer and makeup that day. It gets everything off.
My essence
I use Fresh's Kombucha Essence. I really, really enjoy that. I'll put it on right after cleansing. It balances your pH, gets your skin ready for moisturizing, and all that stuff.
My serums
A few months back, I went to Target and [discovered] Well People, which is a clean beauty brand. I've been obsessed [ever since] and actually used a lot of it on Stephanie Hsu for the Met Gala. One thing that I really, really love under makeup is the Bio Brightener Priming Serum. I love it because it leaves the skin feeling nourished and plump, but it also helps the makeup last a long time. That is a must for me.
When I pamper myself—I don't use it every day just because of the price point of it—I use La Mer The Serum. Those are the pamper days. And then on the regular days—every day, because I think it also works—I use the L'Oreal Paris Hyaluronic Acid Serum. It's got pure hyaluronic acid in it. That really works well. It gives me a really good boost of moisture without being super greasy.
My moisturizer
Also on pamper days I use the La Mer The Cream. I also regularly use the L'Oreal Paris moisturizer, the Triple Power Anti-Aging one, which is something that my dermatologist referred to me. It's fragrance free.
I have a La Mer cream in my kit as well, and I do like to use that. It depends on the person's skin, but I like to use it and give it a lot of absorption time. But if someone tends to get oily, I tend to not use that. For prepping makeup, I like to use Augustinus Bader. It goes on really lovely over face oil. I'll put that on it and it really is amazing.
My eye cream
I use the Well People Dew Snow Eye Gel-Cream, the Mushroom one. The thing with me and eye cream is that my eyes get really sensitive. I've tried most eye creams, and for some reason my face is sensitive but it's not as sensitive as it is around my eye area. And this one does not make me tear up if it gets a little bit in my eye. I used to be a contact lens wearer, but lately I cannot. Even when I put moisturizer on, I don't go near my eyes. This eye cream has allowed me to do that. And I know that I need to start wearing eye cream because I'm starting to get those lines on the sides of my eyes.
My face mask
When it comes to a mask that you apply on, I really enjoy the Pure Clay one from L'Oreal. It tightens my skin, refines my pores, and helps with blackheads. And then for a sheet mask, I like the 111Skin, the Black Diamond one. It is so freaking good. I'll also use those eye patches and they don't make me crazy. Christina Ricci's also a fan; she's the one who got me started on it.
My spot treatment
The Mario Badescu Drying Lotion. It is tried and true, and my husband was the one that got me into it. And then also, I use the Mighty Patch zit stickers.
My retinol
I go on and off with retinol. I'll use it for a few days, and then I won't use it for a couple of days. But it works really well, and I feel like my skin looks renewed. When I do use a retinol, it's the L'Oreal Night Serum. I'll do it at night, obviously, and then I just freaking make sure I slather on the sunscreen.
My face oil
I like the Well People Plant Elixir Replenishing Botanical Facial Oil. With facial oils, sometimes it's hit or miss for me because my skin is oily. I know that is such a wives' tale—when people say, "Oh, I'm not going to use oil on my face because I'm already oily." No, sometimes it counteracts the oil. But in terms of sensitivity, sometimes there are face oils that tend to not absorb into my skin well, and I'll start getting these little spots and itchy. I'm still in the process of trying to figure out what kind of oil is making that do that, maybe I'm just allergic to a specific one. But this one is tried and true, and I've used this consistently on myself and my clients.
My face mist
I do face mists on clients sometimes as a toner kind of thing to prep their skin. If it's just cleansed, I'll use it in between makeup applications, like after foundation, to add a hint of moisture and maybe rub a beauty blender on it. I also wet my beauty blenders with face mist. At the end of applying the makeup, I'll do a little bit of face mist to make the makeup adhere, set, and just look like it's more a part of the skin.